AnnaGrace Brackin Recognized with Swope, Rodante Vanguard Award
Congratulations to AnnaGrace Brackin on being selected as November's Swope Rodante Vanguard Award winner. Swope, Rodante Founding Partner, Dale Swope presented the award to a shocked AnnaGrace who was surprised during a special ceremony held a Blake High School on Friday afternoon where family, friends, teammates and Blake teachers and faculty cheered her on.
A truly remarkable student athlete, AnnaGrace has excelled academically earning a 6.98 GPA while at the same time gaining recognition for her numerous athletic accomplishments including earning her 3rd degree black belt in Kukiwon, being recognized as Blake High School's Outstanding Swimmer for the 2018 Season, and winning a Silver Medal at the West District Championships for rowing. AnnaGrace was also a member of the relay team that broke the school record for Girls 200 Freestyle Relay and 400 Freestyle Relay. Her awards within martial arts include multiple state, national and international titles and she's also had the unique opportunity to train at USA's Olympic Facility her Freshman year.
Coming into her Senior year of high school, AnnaGrace had to cope with physical challenges due to a knee injury and a broken ankle she sustained while attending Harvard's Pre-College Program. These injuries limited her ability to train for the season; however, despite not being able to swim AnnaGrace always showed up for practice, motivating her fellow teammates.
Outside of athletics, AnnaGrace has been a member of Florida Girls' State Delegation, the Youth Action Committee, Harvard's Pre-College Program, and University of Iowa's Young Writers Studio. AnnaGrace is also a member of the National Arts Honors Society, Blake's Parent Teacher Student Association, National Honors Society, Mayor's Youth Corps and an awarded member of Blake's Chorus for three years straight.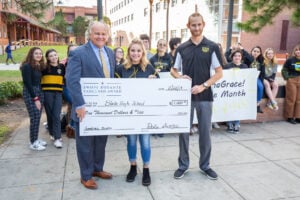 With a genuine heart for service, AnnaGrace dedicates her time and energy to numerous organizations and is the Co-Founder of Grace's HOPE (benefiting children with epilepsy) which was established in 2010. She tutors at Cyrus Green Recreation Center and volunteers with Southeastern Guide Dogs, National Arts Honors Society, PTSA, NHS and Feeding Tampa Bay. To date she has accumulated over 1500 hours of community service. AnnaGrace has earned numerous awards for her service to the community including the Kid's Are Heroes Award, a distinction presented by Senator Bill Nelson, the International Day of Peace Award, and the President's Lifetime Achievement Award for Volunteer Service.
Established in 2011, the Swope, Rodante Vanguard Award's mission is to celebrate outstanding high school student athletes and coaches throughout all of Hillsborough County. The Swope, Rodante Vanguard Award honors the hard-work, drive and discipline necessary for student athletes to make an impact both in athletics and within the classroom. These students provide a strong example for fellow peers and positively impact the school system as a whole.
Each month of the school year, The Swope, Rodante Vanguard Award Selection Board, comprised of Tampa Bay business leaders and education professionals, recognizes a "Student Athlete of the Month." The winning student receives an award recognizing his/her achievements and a $1,000 check that is donated to their school's athletic department in honor of their outstanding performance.
To learn more about the Award or to nominate a student, click here.