Dale Swope Recognized as 2016 Florida Trend's Florida Legal Elite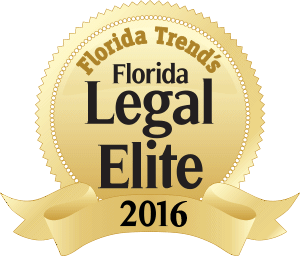 Swope, Rodante P.A. is proud to announce that managing partner, Dale Swope, was recently recognized in the 2016 edition of Florida Trend's Florida Legal Elite™.
The July issue of Florida Trend magazine features a list of 1,144 honorees that includes attorneys in private practice as well as top government and non-profit attorneys. The list represents less than 2% of the active Florida Bar members who currently practice in Florida. The honorees were chosen by fellow peers and colleagues who were asked to name attorneys that they hold in highest regard or would recommend to others. Mr. Swope has been recognized as a Florida Legal Elite nine of the thirteen years since the program was initiated.
"Florida Trend's 250,000 readers are executives who rely on the legal community for many crucial corporate assignments," says Publisher Andrew Corty. The goal of Florida Legal Elite is to provide a resource for readers and a guide to selecting a trusted legal partner to handle delicate business matters. Each listed individual exemplifies a standard of excellence in their profession and has garnered the respect and esteem of their colleagues.