Julian Canuelas Recognized with Swope, Rodante Vanguard Award
Congratulations to Julian Canuelas on being selected as this month's Swope Rodante Vanguard Award winner. Swope, Rodante Partner, Angela Rodante presented the award in front of a gymnasium filled with Julian's peers. A strong and determined young man who has overcome enormous adversity in his life, Julian has excelled by turning his focus to basketball and working hard to become the best player he can be – working hard to become a starter, a captain, and most importantly a leader on Sickles High School's Basketball Team.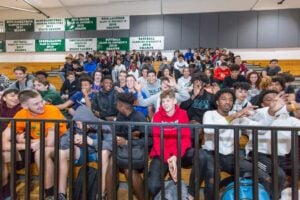 An outstanding student athlete and captain of the Basketball Team, Julian Canuelas is a true example of someone committed to following his dream. In addition to excelling academically and athletically, Julian selflessly gives back to the community, volunteering at youth sports camps in Tampa and Puerto Rico. He has recently been recognized as the "Most Outstanding Player" during both the Seminole Shootout and the Lakeland Challenge.
Established in 2011, the Swope, Rodante Vanguard Award's mission is to celebrate outstanding high school student athletes and coaches throughout all of Hillsborough County. The Swope, Rodante Vanguard Award honors the hard-work, drive and discipline necessary for student athletes to make an impact both in athletics and within the classroom. These students provide a strong example for fellow peers and positively impact the school system as a whole.
Each month of the school year, The Swope, Rodante Vanguard Award Selection Board, comprised of Tampa Bay business leaders and education professionals, recognizes a "Student Athlete of the Month." The winning student receives an award recognizing his/her achievements and a $1,000 check that is donated to their school's athletic department in honor of their outstanding performance.
To learn more about the Award or to nominate a student, click here.