Historically, government has been given sovereign immunity from civil or criminal prosecution without its consent, but in modern times, federal and state laws have provided exceptions that allow for prosecution in certain instances. Sovereign immunity actually refers to supreme power derived from a proverbial saying about the monarchy: "the king can do no wrong," which was a concept brought over to America from ancient England.
A Supreme Court ruling suggests different reasoning for America adopting this doctrine: "A sovereign is exempt from suit, not because of any formal conception or obsolete theory, but on the logical and practical ground that there can be no legal right as against the authority that makes the law on which the right depends." Kawananakoa v. Polybank, 205 U.S. 349 (1907). Though sovereign immunity has become more limited over the years with exceptions in the law so that it is not an absolute, it is still a judicial doctrine that allows some degree of immunity.
At Swope, Rodante P.A., our attorneys know that sovereign immunity for certain types of claims against government employees and recovery limits make these cases difficult to prosecute, but they have the knowledge, skill and determination to fight for our clients in cases against the state. If you would like to speak with one of our attorneys about your case, please contact us.
FEDERAL LAWS
On the federal level, immunity is limited through the Tucker Act and Federal Tort Claims Act.In 1887, Congress passed the Tucker Act that authorizes the U.S. Court of Federal Claims to hear claims for damages arising from the constitution such as the Fifth Amendment, which prohibits private property from being taken for public use without just compensation. The U.S. Court of Federal Claims has exclusive jurisdiction over Tucker Act claims, which are generally claims for damages not arising in tort exceeding $10,000 against the United States. Under the so called "Little Tucker Act," federal district courts may also hear claims of less than $10,000. The relevant text of the Tucker Act is codified under 28 U.S.C. §§ 1346(a) and 28 U.S.C § 1491.
It wasn't until 1946 that Congress authorized the Federal Tort Claims Act that allows government employees to be held liable for most torts [harm] such as property damage, personal injury or wrongful death due to negligence and medical malpractice at eligible health centers. This act is codified in 28 U.S.C. Chapter 171- Tort Claims Procedure, and 28 U.S.C. § 1346(b).
STATE LAWS
The history of sovereign immunity in the individual states was shaped by reaction to the U.S. Supreme Court's decision in Chisholm v. Georgia, 2 U.S. 419 (1793). In this case, the court permitted a North Carolina citizen to sue Georgia for property it seized during the American Revolution. The state's disapproval of this decision prompted the adoption of the Eleventh Amendment to the U.S. Constitution that grants immunity from suits by citizens of another state.
Still, the U.S. Supreme Court has jurisdiction to hear lawsuits by one state against another. The courts have also interpreted the Eleventh Amendment to allow for appellate proceedings in cases originally instituted by the state if constitutional rights are asserted, which led to extensive litigation for alleged violations of the Civil Rights Act of 1871 (42 U.S.C. Section 1983). Also, the Fourteenth Amendment has been used to apply civil rights laws since Congress may revoke state sovereign immunity, under Section 5, which grants the legislative body the enforcement power to advance goals of the amendment such as due process and equal protection of the law.
In Seminole Tribe v. Florida, 517 U.S. 44 (1996), the Court ruled that absent a state's waiver, states retain their sovereign immunity unless: (1) Congress unequivocally expressed its intent to abrogate the immunity, and (2) Congress acted pursuant to a valid exercise of its enforcement power under Section 5 of the Fourteenth Amendment.
The Eleventh Amendment specifically reads: "The judicial power of the United States shall not be construed to extend to any suit in law or equity, commenced or prosecuted against one of the United States by Citizens of another State, or by Citizens or subjects of any Foreign State." Even though the language doesn't bar suits by a state's own citizens, the limitation was judicially extended to those suits in Hans v. Louisiana, 134 U.S. 1 (1890). But most states have placed restrictions on states' sovereign immunity from lawsuits in accordance with federal laws.
In Florida, §768.28 Fla. Stat. (2012) allows a waiver of sovereign immunity for liability in tort actions against the state or any of its agencies or subdivisions. Under this statute, litigants may prosecute cases to recover monetary damages for injury or loss of property, personal injury or death due to negligence of government employees acting within the scope of their employment, or under circumstances where that employee would otherwise be held liable as a private person. However, liability may not include punitive damages or interest before the period of judgment.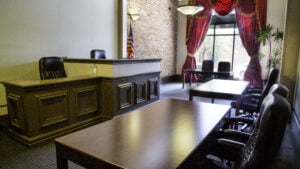 Furthermore, this act sets recovery limits for this waiver of sovereign immunity. It reads: "Neither the state nor its agencies or subdivisions shall be liable to pay a claim or a judgment by any one person which exceeds the sum of $200,000 or any claim or judgment, or portions thereof, which, when totaled with all other claims or judgments paid by the state or its agencies or subdivisions arising out of the same incident or occurrence, exceeds the sum of $300,000."
The act also sets a statute of limitations of "within three years after such claim accrues and the Department of Financial Services or the appropriate agency denies the claims in writing." However, there are exceptions which may shorten the time period where two or more persons became jointly or severally liable in tort for the same injury or in cases of wrongful death. If you are concerned about filing a claim against the state before the statute of limitations expires, please contact us.