Ybor City Aficionados: You Know Him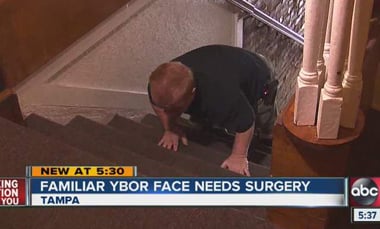 If you've been in the streets of Ybor City you know him or you've probably at least seen him.  As a bartender at James Joyce Irish Pub, he can barely reach the counter, but he makes a tall impression enticing people in with his warm smile while he dons costumes from a leprechaun to Hulk Hogan.
The name behind the man is David "Diggler" Marshall.  ABC Action News recently reported that "the man who makes other laugh –cries."  He has recently suffered a coma with pneumonia, which has left him in a wheelchair. He needs surgery to be able to walk again, but he doesn't have insurance.
For more information on his biography and how you can help him recover, visit Save Diggler.com where you can make a donation online or attend the fundraiser Aug. 16 and Aug. 17 at James Joyce Irish Pub.
To view the full news article, visit this link.