Amputation Injury Resources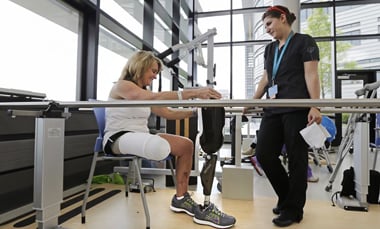 Amputation Injury Resources
An amputation is defined as the surgical or traumatic separation of a limb or appendage from the body. It is estimated that one out of every 200 individuals in the United States has had an amputation of some form. However, traumatic amputations are unplanned and result from some type of accidental injury in comparison to planned, medical amputations.
Amputation Support and Resources
At least 30,000 traumatic amputations occur in the US every year. Living with the physical limitations and disfigurement caused by a traumatic amputation injury can be physically and mentally taxing on the injured person and his/her family. In Florida and across the US, groups of amputees and medical professionals have come together to provide support and educational resources. These resources allow amputees to talk with one another and learn about the challenges and options of dealing with the effects of limb loss. Here are a few local resources, for starters:
Causes of Traumatic Amputation
A traumatic amputation may involve any body part or extremity. Statistically, the most common causes of accidental traumatic amputation injuries are as follows:
Traffic accidents (including bicycles, trains, motorcycles)
Workplace/factory/construction accidents
Agricultural accidents (including lawnmowers)
Firearm/explosives/fireworks accidents (includes military casualties)
Electrocution accidents
Ring traction accidents (finger de-gloving)
Building and car door accidents
Of the causes listed above, motor vehicle accidents are by far the most common cause of medically necessary traumatic amputations. Industrial and agricultural accidents rank close together as the number two and three leading causes.
Traumatic Amputation Statistics
References:
FAST – http://www.floridaamputee.com/