Bionic exoskeleton aids patients that suffered strokes or spinal cord injuries to walk again.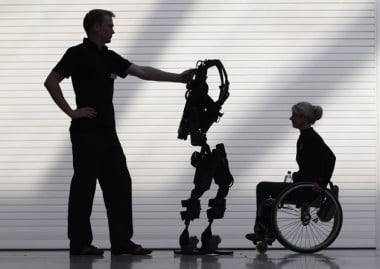 There are currently over 3,500 patients, who either suffered a severe spinal cord injury or stroke, that have been able to walk again with the help of a revolutionary device made by Ekso Bionics of Richmond, California.  Co-founder and chief technology officer, Russ Angold, reported these facts at 2015's installment of CES (Consumer Electronics Show), where Shane Mosko, victim of a partial spinal cord injury, demonstrated the device to a crowd.  Hopefully, over the next few years, Ekso Bionics will have the chance to implement their creation to modern forms of rehabilitation.
            Although GW released a monolithic, clumsy version of an exoskeleton in the 1960's, they were afraid of experimenting the effects of the suit with a human user.   However, in the early 2000's, the Defense Advanced Research Projects Agency (DARPA) started to fund several exoskeleton projects, the first of which were designed for soldiers.  Since the inaugural search for bionic advancements, Ekso Bionics has sought to configure a state of the art exoskeleton.  Over the last decade, the company has developed gigantic versions requiring 2,500 watts of power, replete with motors and batteries, to smaller devices that work on just 4 measly watts of power.
            Their newest device, simply named the Ekso, aims to help stroke patients walk again.  Since stroke victims may find it difficult to move on their own and are apt to get fatigued after even minimal movement, the Ekso will provide strength to the legs.  Also, the patients may have differing levels of strength in their legs, so the suit will oscillate between varying power levels, depending on the user's strength.
"With the bionic suit, patients can walk hundreds of feet when they first stand up. They aren't concerned about getting tired, and the variable strength means they don't favor one side as they would if they were walking on their own," Angold said, "Repetitive and intense practice is a key factor in improvement in walking function, because it helps retrain the brain pathways that control walking."
            In addition to helping those who suffered strokes, the Ekso can also benefit those who underwent spinal cord injuries.  Those with partial paralysis that still retain partial sensation and usage of legs can use the Ekso to build formerly nonexistent muscle strength.  It also has the ability to isolate certain muscles such as the hip flexors and the quadriceps.
            At the moment, the Ekso costs too much for consumer use and only a few hundred models are currently in use by physical therapists.  Nonetheless, the company plans to develop simpler models that aid the elderly or even provide ulterior methods of exercise for extreme sport athletes.  Optimistically, we will see the promising results of Ekso Bionics' devices in everyday situations soon.
Source: Yahoo