"The Crash Reel" HBO Film on Former snowboarding champion Kevin Pearce and Traumatic Brain Injury survivor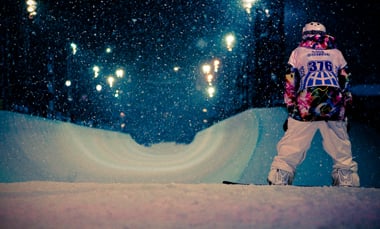 This past summer, a new HBO documentary film about Vermont snowboarder Kevin Pearce premiered and is said to be the first of its kind, offering viewers a first-hand look into the struggles of recovering from a severe traumatic brain injury (TBI).
Creators of the film are confident it will succeed in captivating the attention of audiences while educating them about the harsh realities of brain injuries, as it is thrilling and entertaining, yet somber and real. Important, and quite often misunderstood, are the details about the long-term physical and emotional effects of traumatic brain injuries. The film also explores the young man's journey to rediscover a fulfilling life following his injury.
The documentary begins by following Kevin as he ascends to the top of the snowboarding world. Kevin was in a tight race for the gold medal in the Vancouver Winter Olympics against snowboarding legend Shaun White. In 2009, his stint at the peak of sliding sports glory was cut short by a near fatal traumatic brain injury after a serious crash on the half-pipe at Park City, Utah.
During some competitions and all Olympic events, skiers and snowboarders are required to wear protective helmets. Kevin was not wearing a helmet in Park City. He lost consciousness and remained in a coma for ten days.  Snowboarders are particularly prone to head injuries, as the board does not detach from the feet like skis do in the event of a hard fall.
The main leg of Kevin's story begins as he begins a slow and arduous rehabilitation process and a short-lived attempt to return to competition. Kevin's friends and family must watch in pain as he faces an interpersonal struggle to come to terms with his traumatic brain injury and its limitations. The immense support he receives from family members through his recovery is a truly compelling component of the story, providing inspiration to other families supporting a traumatic brain injured individuals through the recovery process.
It's been well over three years since Kevin's tragic accident. Today, Kevin is 25 years old and doesn't remember his first 30 days of recovery. He is reminded by the frustrations of a lasting traumatic brain injury each day as he continues to cope with loss of memory, vision problems, balance difficulties, and fatigue.
However, that doesn't mean Kevin has given up on his life's passion. He has returned to snowboarding at a recreational level. Kevin has also discovered new ways to channel his taste for risk by taking on public speaking. He spreads messages encouraging people to "love their brains." He has also taken up surfing—in a helmet. In an interview about the film's making, Kevin had a clear message for skiers and snowboarders everywhere that think are too cool too wear a helmet on the slopes: "Tell them they are idiots. Tell them to live a day in my shoes."
References:
DRM –