Exploring the Impact of Medical Malpractice on Patients and Families
In the complex world of healthcare, medical malpractice cases have become a significant concern for patients and their families. When medical professionals fail to meet the expected standard of care, the consequences can be devastating, resulting in profound physical, emotional, and financial hardships. As a leading Florida-based medical malpractice law firm, Swope, Rodante P.A., understands the far-reaching impact of malpractice on patients and their loved ones.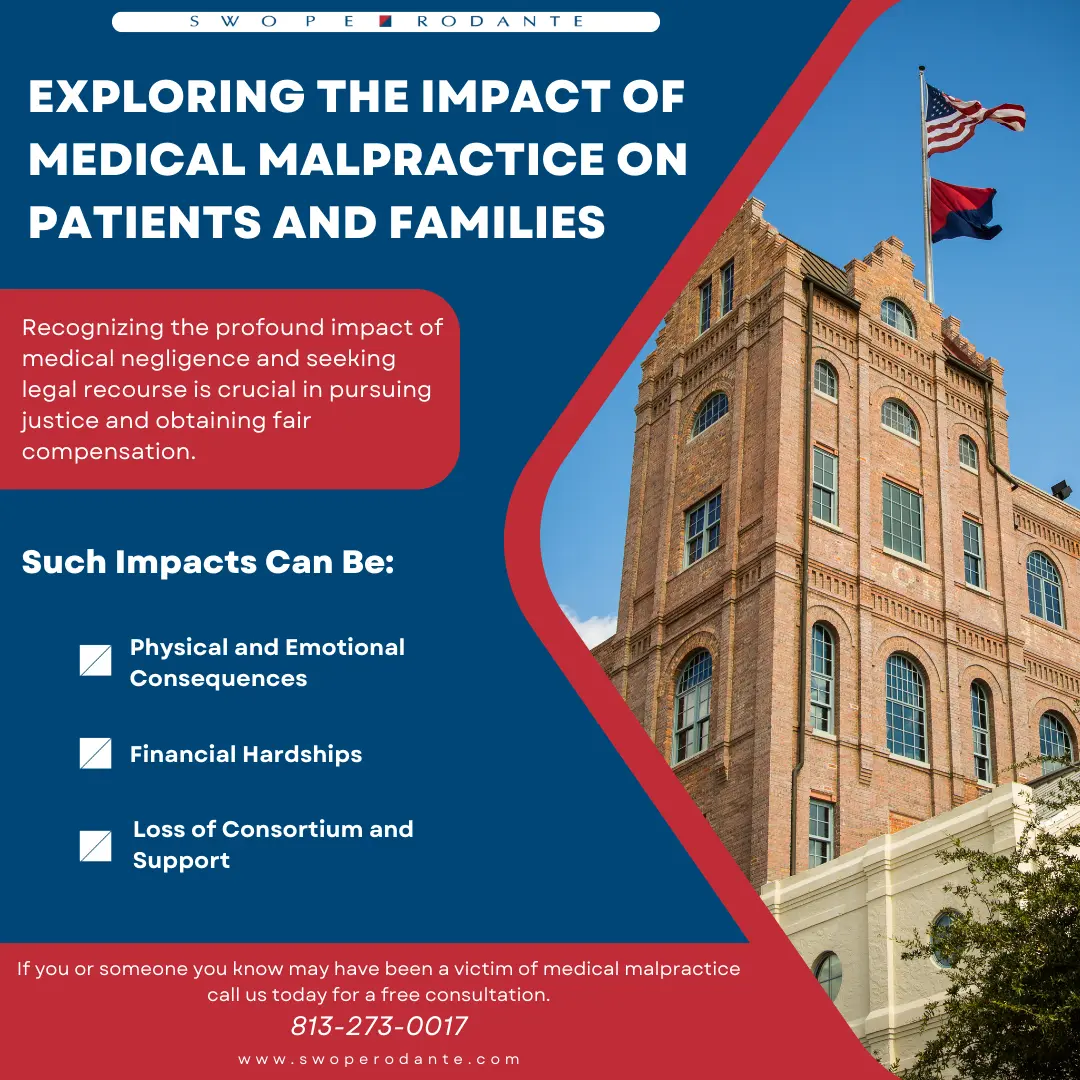 Physical and Emotional Consequences
Medical negligence (or malpractice) can cause severe physical injuries and complications that significantly affect a patient's quality of life. Whether it's a surgical error, misdiagnosis, medication mistake, or birth injury, the consequences can be long-lasting and, in some cases, permanent. In some circumstances those injuries and complications may result in the patients' death.  Patients may endure chronic pain, disabilities, or disfigurement, requiring ongoing medical treatment and care. Furthermore, these physical consequences often give rise to emotional distress, psychological trauma, anxiety, depression, and a loss of trust in the medical profession.
Financial Hardships
The financial impact of malpractice on patients and their families can be substantial. Medical bills can quickly pile up due to the need for additional treatments, surgeries, medications, and rehabilitation services. In cases where the victim is unable to work or experiences a diminished earning capacity, the financial strain can become overwhelming. Additionally, the emotional toll and the need for ongoing care may necessitate lifestyle adjustments, resulting in additional expenses that can further burden the family.
Loss of Consortium and Support
When a medical error results in severe injury, disability, or loss of life, it not only affects the patient but also has a profound impact on their loved ones. Spouses may experience a loss of consortium, which refers to the loss of companionship, intimacy, and support. Families may also endure a loss of parental guidance or financial support, leading to emotional distress and economic instability. Recognizing the broader impact of such a loss on families, legal recourse can help provide compensation and support for these losses.
Advocating for Justice and Accountability
In the face of medical malpractice, patients and their families often find themselves overwhelmed, confused, and unsure of how to navigate the legal complexities. This is where our experienced medical malpractice attorneys at Swope, Rodante P.A. can make a significant difference. By working closely with the affected individuals, they seek justice and accountability on their behalf. Through comprehensive investigations, gathering evidence, and leveraging their legal expertise, our lawyers strive to secure fair compensation for the physical, emotional, and financial damages incurred.
Raising Awareness and Promoting Change
Beyond individual cases, medical malpractice lawsuits play a vital role in raising awareness and promoting positive change within the healthcare system. When incidents of negligence are brought to light and responsible parties are held accountable, it encourages healthcare providers and institutions to review their practices, implement improvements, and prioritize patient safety. By shedding light on these issues, law firms contribute to the betterment of healthcare standards, ensuring a safer environment for future patients.
Medical malpractice can have far-reaching consequences on patients and their families, causing physical, emotional, and financial hardships that can be life-altering. Recognizing the profound impact of medical negligence, seeking legal recourse is crucial in pursuing justice and obtaining fair compensation. Swope, Rodante P.A. understands the challenges faced by those affected and provides dedicated legal representation to help alleviate the burdens and advocate for their rights. Through their work, they strive not only to secure compensation for their clients but also to raise awareness.
If you or someone you know may have been a victim of malpractice call us today at 813-273-0017 for a free no cost consultation.