Kaden Miller Recognized with Swope, Rodante Vanguard Award
October 6, 2015 (Tampa, FL) — The Swope, Rodante Vanguard Award Selection Board is pleased to share that Bloomingdale High School junior Kaden Miller was selected as the "September Student Athlete of the Month." The mission of The Swope, Rodante Vanguard Award is to celebrate outstanding high school student athletes and coaches throughout Hillsborough County. Angela Rodante presented Kaden with the award as well as a $1,000 check to be donated to the school's athletic department on Thursday, October 8th during a school gathering.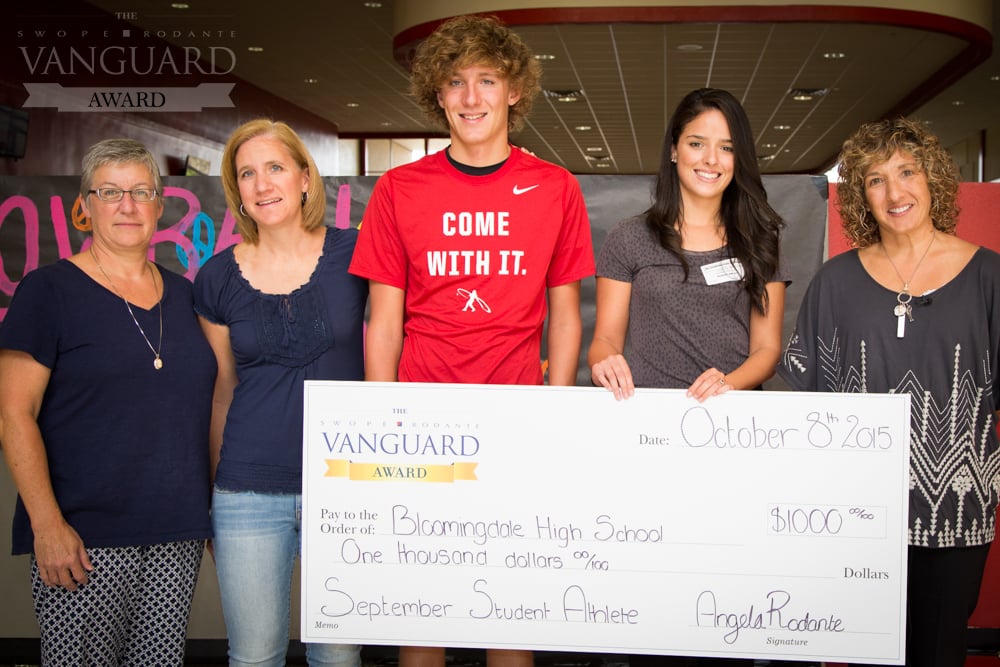 Kaden has been a member of the BHS swim team for three years. Despite sustaining a knee injury that forced him to take some time off from competing, Kaden has supported his team fervently as if he were in the water competing. His coach Eva Applebee nominated him because he has not only overcome adversity but demonstrates strong leadership qualities and is deeply committed to the BHS swim team. This year looks very promising for Kaden, as he has posted excellent time in his events.
In addition to his commitment to the swim team, Kaden holds his academics and community involvement in high regard. In his spare time, he walks dogs for people in the community and has volunteered with Team Trident. He has maintained an outstanding GPA throughout high school and plans to study engineering in college.
REQUIREMENTS FOR NOMINATED STUDENTS
The student athlete's name and year (juniors and seniors only);
Current overall GPA (GPA of 3.0 or above);
Sport and athletic achievements; Community involvement;
Any hardships overcome by the student athlete;
and Plans for continuing education.