Legendary Quarterback Brett Favre steps forward claiming health problems linked to Concussions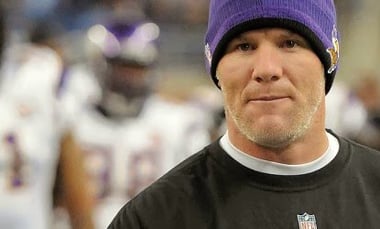 Legendary Packers (and Vikings) Quarterback Brett Favre is the latest to admit health issues stemming from concussions just weeks after NFL widower Sylvia Mackey joined in on a civil lawsuit on behalf of her late husband, NFL retiree John Mackey, who passed away and was diagnosed with the degenerative brain disease chronic traumatic encephalopathy (CTE). The Mackey suit follows the more widely publicized civil suit brought on by approximately 4,600 ex-players and their family members in which the NFL agreed to a $765 million settlement. 
Brett Favre Admits to Problems caused by Concussions
After nearly three years into retirement, Brett Favre spoke out during a radio interview conducted in late October by a Washington-based sports station. Favre is best known for his all-pro performances leading the Green Bay Packers to multiple Superbowl appearances. Over his career, Favre was sacked 525 times, more than any other NFL quarterback. His persistence and fearlessness in the pocket enabled him to set passing records, but taking such a high amount of sacks or hits "after the play" didn't come without risk.
In the recent radio interview, Favre said he has started to lose his memory and fears the damage to his brain may get much worse.
Favre told the Washington sports station during his interview in October:
"I don't remember my daughter playing soccer, playing youth soccer one summer. I don't remember that. This was pretty shocking to me that I couldn't remember my daughter playing youth soccer, just one summer, I think. I remember her playing basketball, I remember her playing volleyball, so kind of think maybe she only played a game or two. I think she played eight. So that's a little bit scary to me. For the first time in 44 years, that put a little fear in me."
With his comments, Favre joins nearly 5,000 other retired NFL players who have admitted suffering lapses in memory. In more severe cases, some have said that concussions have left them battling a range of other symptoms, including depression, bouts of rage and even suicidal impulses.
Players Speak out, Lawsuits and NFL Focus on Concussions 
Over the past few years, more NLF players (current and retired) have demonstrated a willingness to address the subject of traumatic brain injuries. In another interview earlier this year, former San Francisco 49ers quarterback Steve Young explained how he worries about the potential long-term dangers caused by concussions:
"The thing I fear most for players in football is what they're calling the micro-concussions, these things that happen daily, the things that you don't even necessarily notice, practices, games, linemen, running backs, linebackers, just the nature of the game," explained Young. "You talk about a nefarious injury, one that you never feel until it's too late. Just when I look back over 30 years associated with football, that's the thing that is most alarming to me."
References: