Local Attorney Named as Finalist for Woman of the Year Award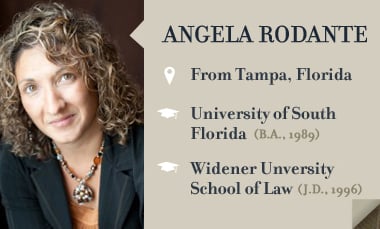 August 14, 2013 (Tampa, FL) — Swope, Rodante P.A. is incredibly proud to announce that managing partner Angela Rodante has been selected as one of the top 50 finalists for the Tampa Bay Business Journal's 2013 Business Woman of the Year Award. Bestowed annually, the prestigious award recognizes noteworthy business women who are making a positive impact within the Tampa Bay business community. The winner will be announced during The 2013 Business Woman of the Year Award Gala being held on Friday, August 23 at 6:00 pm at the Innisbrook Golf Resort located at 36750 US Highway 19 North in Palm Harbor, Florida.
Rodante is a Florida civil litigation attorney who represents clients who have been catastrophically injured or mistreated by insurance companies. She became a partner of Swope, Rodante P.A. in 2003. Her history with the firm is a true testament to her determination as a business woman whose drive stems from a passion for helping others. Rodante actually began with the firm as a runner in 1985 prior to graduating with her B.A. from the University of South Florida. She later returned as a legal secretary and then as a law clerk. In 1996, Rodante graduated from Widener University School of Law and returned to work for the firm as an associate attorney in 1997.
Throughout her career as an attorney, she has received numerous accolades in honor of her success. Recent awards include an AV Preeminent Rating by Martindale-Hubbell, inclusion as a Top Rated Lawyer in Insurance Law by Martindale-Hubbell and American Lawyer Media, recognition as one of the Best Lawyers in America by Best Lawyers, the 2013 Client Distinction Award form Martindale-Hubbell and an Excellent Rating by AVVO.
Swope, Rodante, P.A. is very proud of Rodante for being nominated for this exceptional honor among an outstanding group of business leaders who are all making a unique and profound impact on the Tampa Bay community.
Swope, Rodante P.A.
Swope, Rodante P.A. is the direct, continuous descendant of a solo practice Dale Swope first founded in 1979. The firm is a twelve lawyer civil trial practice firm with offices in Tampa, Florida and Atlanta, Georgia. Practice areas include catastrophic personal injuries or wrongful death, insurance coverage disputes, and both first-party and third-party insurance bad faith actions. The firm's team of experienced and knowledgeable attorneys and staff work with an unyielding commitment to protecting the rights of the injured and underinsured.