Long-Term Effects of Burn Injuries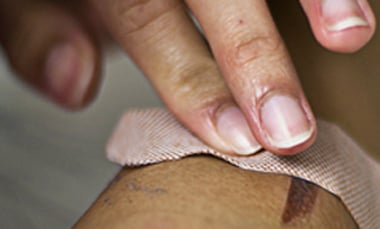 Burn injury survivors often face a challenging recovery period, particularly in the cases of deep partial and full thickness (3rd and 4th degree) burns. Victims of serious burns can spend weeks or months in a hospital burn treatment ward. The injury victim's length of stay in a burn ward depends on the severity of the burns, how much of the body is burned (%), and whether the lungs are damaged from inhaling smoke or chemicals.
Immediate Healing and Treatment
The body begins the early stages of building scar tissue in the first few days of recovery. For most third or fourth degree burns, burnt areas that can be saved are typically excised (removed) through surgery and replaced with skin grafts. This usually speeds the healing process.
Once a patient has recovered from any necessary surgeries and wounds have closed up, he/she may be ready to return home.  In cases of severe burns, scarring can remain and requires some adjustments and special care.
5 Tips to Care for the Long-Term Effects of Burns
When the patient is ready to return home, the body is its final scar tissue phase. Scar tissue matures as it becomes thicker and stronger. However, the tissue may feel tighter and often requires special care that can be different from what the patient was used to before the burn injury occurred.
Inability to Sweat – Sweat glands are destroyed in cases of partial or full thickness (3rd of 4th degree) burns. Sweat glands control body temperature, so burn survivors may struggle with hot and humid climates. He/she might also need to avoid strenuous exercise or working conditions to protect against heat stroke.
Skin Lotion – The skin's sebaceous glands may have also been destroyed by burns. These glands lubricate and provide natural moisture to healthy skin. Burn survivors should apply lotion daily to scar tissue areas in order to keep the tissue from drying out or cracking.
Color Changes – Scars may appear red for weeks or months, but tend to lose their reddish hue over longer periods of time. Burn sites may have been repaired using skin grafts from different areas of the body. These areas tend to have different levels of melanin, so skin tones may vary considerably in newly healed areas. These areas may adjust and blend together over time.
Sensation Changes – In cases of deeper burns, the sensation of superficial touch may be decreased. Subtle hot/cold, sharp/dull, and light pressure changes may be difficult to sense. However, deep touch sensations typically remain intact. Many burn survivors become more sensitive to ambient temperatures than before the burn injury. Most commonly, these people become more sensitive to colder or dropping air temperatures than before. Moderate climates are sometimes a good choice for burn survivors, away from both extreme heat and harsh, cold winters.
Psychological Impact – Burn injuries can be very traumatic on both the victim and his/her family. Patients still in the burn ward may be emotionally traumatized and the support from friends and family can play a huge part in aiding recovery. Once a burn survivor leaves the hospital, psychological impact of disfigurement can be difficult, especially in cases of burns around the face or neck. It is possible for a burn victim to feel isolated and seeking therapy or treatment from a psychiatrist may be beneficial to the patient. The abrupt and permanent lifestyle changes can be strong enough to trigger depression in some individuals. It is important to consult a mental health professional in any case where the patient feels saddened or overwhelmed. Professional support, along with friends and family, can help immensely in the long-term aspects of recovery.
References:
T. Colin Campbell Foundation – Burns
The Burn Injury Recovery Center – Long-Term Treatment and Care Issues for Burn Survivors