Man Receives Double Arm Transplant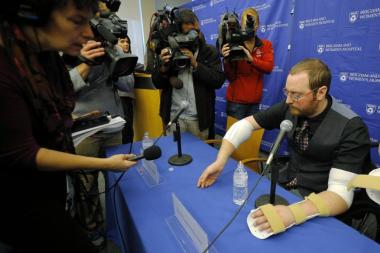 Just before Thanksgiving, Will Lautzenheiser graciously received a double arm transplant from an anonymous donor. Because of an aggressive streptococcus infection, Lautzenheiser lost all four of his limbs in 2011. The infection led to sepsis, forcing a quadruple amputation. Earlier in the year he was approved for an extraordinarily rare operation, a bilateral arm transplant. Now, after the seemingly miraculous operation, Lautzenheiser has two new arms and an infinite well of gratitude.
Lautzenheiser, a 40 year old former film teacher turned stand up comedian, appeared at a press conference last week with his arms in splints. Expected to gain function and sensation over the next few years, Lautzenheiser can already feel sensation in his hands and move his thumbs. Although he doesn't know the man whose arms he now has, Lautzenheiser feels a connection to him and is thankful for his new arms.
"I hope to be able to live up to the memory of this man and make this worthwhile," he said. "This person who is anonymous to me will always be as close to me as my own skin now, and it's really an incredible gift."
"There were so many things that I didn't even realize I missed doing and now the capacity for doing those things is within reach, literally within reach," he told NBC News.
It took a team of 35 clinicians, 13 of which were surgeons to complete this revolutionary, nine-hour surgery at Brigham and Women's Hospital in Boston, MA. Doctors state that Lautzenheiser complied to the treatment wonderfully, and everything went as expected.
Lautzenheiser was one of the first Americans on a waiting list this year for possible arm transplants, because of a change in regulation from the United Network for Organ Sharing (UNOS) and the Organ Transplant Procurement Network (OPTN). Before UNOS and OPTN did not classify parts of the face and limbs as other organs, but now does.
"These sorts of transplants are becoming more common, although they are still relatively rare," said Dr. David Klassen, Chief Medical Officer for UNOS. It's still very early since the establishment of a formal waiting list and UNOS gathering data to learn more about how it's working, but Dr. Klassen sees potential for growth. "The whole community that is involved in this is sort of gradually expanding," he told NBC News.
There have been exactly 85 hand and arm transplants since 2005 and 20 partial or full face transplants. The hospital where Lautzenheiser has the operation, Brigham and Women's Hospital, is the only hospital in the United States to have done both, accomplishing three hand and arm transplants and seven facial transplants.
The doctors who operated on Lautzenheiser expect him to be able to fully use his new arms over the next several years as the nerves regrow. Modern science has given this man back a pair of arms, but leg transplants have yet to be achieved. Lautzenheiser told a room full of reporters that he'd have to give it a second thought if it were ever possible, joking he wouldn't want to spend all of his 40s in rehab.
Source: Today.com