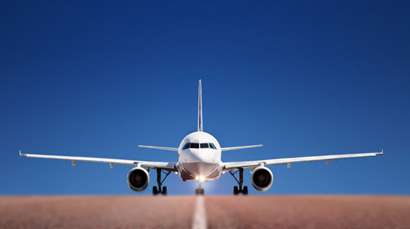 An airplane that's soaring 30,000 feet in the air at a cruising speed of about 500 miles per hour may leave some people trembling in fear. Often times, heightened anxiety of the plane plunging towards the ground and exploding into fire is related to feeling of having little control over the process of flying. Statistically, a person is much more likely to get into an accident on their drive to the airport than in the plane. However, if a crash does occur on a plane, it's more likely to result in severe injuries and fatalities.
While plane accidents are more likely to result in catastrophe, many more car accidents happen each year. For example, Department of Transportation statistics show that more than 5.4 million police-reported motor vehicle crashes occurred in the United States in 2010. Twenty-eight percent of those crashes (1.54 million) resulted in an injury, and less than 1 percent (30,196) resulted in a death.
Overall the most common reason of aviation accidents is pilot error, which may include a mistake, oversight, or failure to exercise due diligence in the performance of their duties. Other common causes of accidents may include other human error made by pilots, flight crews, air traffic controllers and ground crews, weather, mechanical failure or product defect.
Most of the time negligence is a factor in airplane accidents. Forms of civil liability may include:
• Personal injury
• Product liability
• Wrongful Death
A pilot may also be found criminally negligent in a separate case if his or her negligent action, such as the consumption of alcohol, contributed to an accident that caused bodily injuries.
If you or someone you love has been injured in a plane accident due to the carelessness of the pilot or mechanical failure, then you may be able to recover compensation [damages] for medical expenses, rehabilitation, and trauma counseling for pain and suffering, though a personal injury lawsuit. If your family member died, then you may be able to file a wrongful death claim to recover many similar damages and funeral expenses. A mechanical failure may also give way to a product liability suit to recover compensation as well.
Our attorneys at Swope, Rodante P.A. have many years of experience in helping clients who have suffered catastrophic injuries in personal injury, product liability, and wrongful death cases. If you have a question about your case, please contact us.
Federal and International Aviation Laws
The U.S. Federal Aviation Administration defines commercial aviation operations as those carriers that operate aircraft in revenue service, either for the purpose of passenger or cargo transport. Most Part 121 airplanes fly large planes for the purpose of passenger travel that is regulated by Title 14 Code of Federal Regulations Part 121. Commuter and on-demand carriers are regulated by 14 CFR Part 135. General aviation law applies to all aircraft other than those operated by airlines or the military.
The FAA has pilot certification requirements and requires that all aircraft be registered with FAA. The National Transportation Safety Board analyzes industry data and has the ability to suggest rules. Under the General Aviation Revitalization Act, passed by Congress in 1994, a manufacturer may be immune from suit for general aviation aircraft if the product is more than 18 years old and the prosecution is not able to prove the manufacturer intentionally withheld information about the defect.
The International Civil Aviation Organization, an agency of the United Nations, also regulates airplanes. This agency adopts standards and recommended practices concerning navigation abroad, prevention of unlawful interference, and facilitation of border-crossing procedures.
Aviation Case Statistics
For the second year in a row, there were no fatal accidents involving scheduled Part 121 air carriers or scheduled Part 135 commuter operations, the NTSB's 2011 U.S. civil aviation statistics show. In 2009, there were 45 passenger fatalities on Part 121 airlines, and in 2006 there was one passenger fatality on scheduled Part 135 commuter operations. In on-demand Part 135 operations, such as charter, air taxi, air medical operations, fatalities rose from 17 in 2010 to 41 in 2011.
General aviation, which includes all non-commercial operations along with very specific commercial operations such as flight training and banner or glider towing, continues to account for the greatest number of accidents. Fatalities in general aviation declined from 454 in 2010 to 444 in 2011. To find out more about civil litigation for personal injuries and legal implications, please contact us.