Pilot Hospitalized after Dramatic Small Plane Crash at Tampa International Airport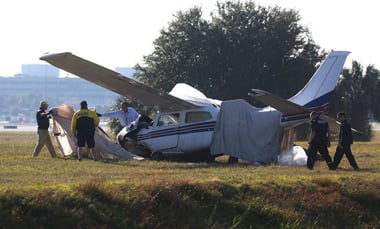 On Friday, December 20th, the pilot of a cargo-carrying 6-seat airplane was rushed to the hospital early after crashing at Tampa International Airport (TIA).  The pilot called in a distress signal minutes earlier after experiencing a drop in oil pressure while flying a single-engine Cessna 210N plane. The small cargo plane was en route from Valdosta, Georgia, preparing for its final approach into TIA.
Airport officials received the pilot's distress call right at 11:44 p.m. The pilot was identified Friday as Mark Love, age 58, of Tampa. Under call sign Starcheck 800, Love made his distress call asking for immediate clearance to land.
Seconds later, he told air traffic controllers at TIA, "I'm running a little bit rough here. I should be able to make it though." Four minutes later at 11:48 p.m., the airplane, a Cessna owned by Flight Express, Inc. crashed on an embankment next to a small retention pond on airport property, well short of the approach end of Runway 19R near the intersection of Hillsborough Avenue and the Veterans Expressway.
Two officers in a Tampa Police Department helicopter in the area overheard the calls of distress on the radio and scrambled to the airport. They touched down close by just after the aircraft had crashed. One officer approached the wrecked plan, extinguished the small fire that had started right after the crash, and successfully pulled an unconscious Love to safety. Love was taken to a hospital with serious injuries, but is expected to survive.
"It was more of a Blackhawk landing in a combat zone landing," noted Officer Dave Dennison, who was piloting the TPD helicopter. 
References: