Your Rights as a Policyholder: How to Protect Yourself from Insurance Bad Faith
As an insurance policyholder in Florida, it is essential to understand your rights and protect yourself from insurance bad faith. At Swope, Rodante P.A., a trusted insurance bad faith law firm serving Florida, we are dedicated to empowering policyholders with knowledge and advocating for their rights. Here, we will explore key rights you have as a policyholder in Florida and provide practical tips to safeguard your interests based on our expertise in handling insurance bad faith cases.
Right to Prompt and Fair Claim Handling:
As a policyholder in Florida, you have the right to expect prompt and fair claim handling from your insurance company. The Florida Insurance Code mandates insurers to act in good faith and deal fairly with policyholders during the claims process.
Tips to Protect Yourself: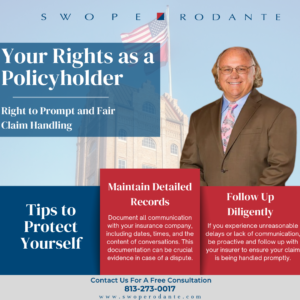 Maintain detailed records: Document all communication with your insurance company, including dates, times, and the content of conversations. This documentation can be crucial evidence in case of a dispute.
Follow up diligently: If you experience unreasonable delays or lack of communication, be proactive and follow up with your insurer to ensure your claim is being handled promptly.
Right to Clear Policy Language and Disclosure:
Florida law requires insurance companies to provide policyholders with clear and understandable policy language. Insurers must disclose any exclusions or limitations that may impact coverage.
Tips to Protect Yourself:
Carefully review your policy: Take the time to read and understand your insurance policy. If you have any questions or need clarification, reach out to your insurance company, or consult with our experienced attorneys at Swope, Rodante P.A., for guidance.
Request written explanations: If you encounter unclear terms or provisions, request written explanations from your insurance company to ensure you have a clear understanding of your coverage.
Right to Appeal and Seek Redress:
In Florida, you have the right to appeal an unfavorable claim decision and seek redress. The state's laws provide a process for policyholders to challenge claim denials or undervalued settlements.
Tips to Protect Yourself:
Understand the appeals process: Familiarize yourself with your insurance company's appeals process and ensure you follow the required steps to dispute an unfavorable claim decision.
Seek legal counsel when necessary: If you believe your insurance company is acting in bad faith and the appeals process does not resolve the issue, consult our skilled insurance bad faith attorneys at Swope, Rodante P.A. We can provide guidance and represent your interests to pursue the fair resolution you deserve.
Right to Privacy and Confidentiality:
Florida law protects your right to privacy as a policyholder. Insurance companies are obligated to handle your personal information with care and comply with privacy regulations.
Tips to Protect Yourself:
Review privacy policies: Take the time to understand how your insurance company handles and protects your personal information by reviewing their privacy policies.
Report privacy breaches: If you suspect your personal information has been mishandled or misused, report the incident to the appropriate authorities and consider seeking legal advice to protect your rights.
As a policyholder in Florida, knowing your rights is crucial to safeguarding yourself from insurance bad faith. At Swope, Rodante P.A., we are committed to advocating for policyholders and protecting their rights in the face of unfair treatment. By maintaining detailed records, reviewing your policy carefully, utilizing the appeals process when necessary, and seeking legal counsel, you can protect yourself from insurance bad faith. Our experienced attorneys are here to guide you through the complexities of insurance claims and ensure that you receive fair treatment and the benefits you are entitled to. By exercising your rights as a policyholder, you contribute to a more equitable and transparent insurance industry in Florida.