Scholarship Winner 2020
Bolatito Adeyeri spends her days as a student at the University of Houston studying not only to become an orthopedic surgeon, but also as a research assistant in the Center for Neuromotor and Biomechanics Research (CNBR). Her outstanding accomplishments as well as extensive work in the community have earned her the Swope, Rodante P.A. Scholarship for Philanthropic Efforts to assist her in her educational journey.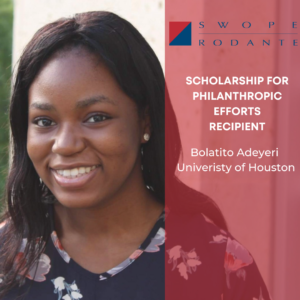 In addition to her studies, Bola spends her free time helping to tutor a myriad of students ranging from young elementary schoolers to teenage refugees. Through this experience she has learned about the resiliency of people from all different backgrounds and the ways our implicit biases can impact our treatment of others. She plans to use this knowledge and experience to ensure she can treat patients holistically and understand the full person, not just the injury.
One character trait of Bola that made her stand out to our committee was her drive to solve complex problems, a value we preach here at our firm. As a research assistant, Bola applied for a position where she can interact with people as opposed to just tissues or cells, unlike many undergraduate research assistant position roles. At the CNBR, she reviews normal gait pathologies – the way people walk, in order to better understand what is abnormal. Rather than just trying to solve a problem in the traditional manner, Bola has learned we must continue to innovate and take a step back to fully understand and see what others may have missed.
Overall, our scholarship committee considers Bola an outstanding student who will not only find success as a surgeon, but as a true problem solver and someone who can change the way victims of spinal cord injuries receive treatment henceforth.
Our scholarship committee reviews applications for this scholarship on an annual basis, and we accept applications on a rolling basis, with the award decision released at the start of each calendar year. If you think that you, or a student you know, deserves our scholarship in 2021 please learn about our requirements and application process here: https://www.swoperodante.com/community/scholarship/