What is Second Impact Syndrome?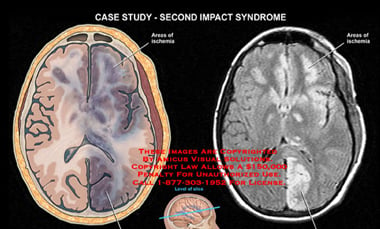 Second-impact syndrome (SIS) is a rare but potentially serious, life-threatening condition that can develop in a person who suffers from back to back concussions. A concussion is a mild to moderate traumatic brain injury (TBI) in which a direct blow to the head causes the brain to collide with the skull. A collision can also produce transverse forces which twist and contort brain tissue and may also cause a concussion.
How does Second-impact Syndrome Cause Severe Damage?
Second-impact syndrome describes brain damage that occurs when a person experiences two concussions in close succession. The injured brain, still damaged from the first concussion, becomes catastrophically damaged from a second blow. As a result of the "second impact", rapid and typically fatal bleeding and swelling of the brain can result.
Since second-impact syndrome (SIS) affects brain tissue still healing from an earlier trauma, permanent disability and death occur in the majority of those diagnosed. Patients are most susceptible to second-impact syndrome in the hours or days after suffering a traumatic brain injury or concussion. Young athletes who return to competitive play or practice too soon are most at risk of second-impact syndrome.
Long Term Consequences of Second-Impact Syndrome
In confirmed second-impact syndrome cases, the approximate mortality rate is just over 50 percent, but the probability of permanent disability is close to 100 percent. Non-fatal SIS patients may live with permanent conditions including:
Coma or Brain Death (persistent vegetative state)
Emotional Instability
Epilepsy
Hallucinations
Mental/Cognitive Impairment
Muscle Spasms and Rigidity
Paralysis
How is Second-Impact Syndrome Diagnosed and Treated?
Second-Impact Syndrome is quickly identified since it occurs in patients who have already suffered a previous, very recent concussion. Swelling occurs so rapidly in SIS cases that loss of consciousness and neurological collapse develops suddenly, usually just minutes after the second injury. Doctors may perform an emergency surgery to relieve some pressure on the brain and may then check for SIS damage using a CT scan or MRI.
Since the onset of Second-Impact Syndrome is so rapid, additional surgery usually does not help and most of the damage done is irreversible. Any chance of successfully treating SIS involves immediate recognition of the injury and administration of osmotic medications, in addition to induced hyperventilation, to lower intracranial pressure. Even with early intervention, some damage is still imminent and the injured person is likely to be left with notable deficits.
How Can Second-Impact Syndrome Be Prevented?
SIS prevention begins with changing attitudes among players and training coaches to watch for and properly recognize concussions. The use of accelerometers and baseline testing to detect concussions can help.
The American Academy of Neurology recommends that young athletes be prohibited from returning to play for at least a week in most cases of concussion. Many critics argue that this time period is not long enough, especially in cases of young adults, and recommend a two-week minimum no-play period. Some states have recently enacted laws mandating that youth athletes suspected of a concussion, no matter how minor, are not allowed to return to play until he/she is cleared by a medically licensed physician.
Second Impact Syndrome Statistics 
From 1980 to 1993, 35 football-related cases of SIS were reported, but only 17 cases of were confirmed through scans, surgery, or autopsy.
Most documented SIS cases have occurred in people below age 20, with the exception of a few individuals involved in boxing.
Prior to 2000, SIS cases had never been confirmed in any children younger than adolescent age.
The Center for Disease Control estimates that second impact syndrome kills four to six adolescents under the age of 18 each year.
References:
The Mayo Clinic
Mom's Team
University of Wisconsin