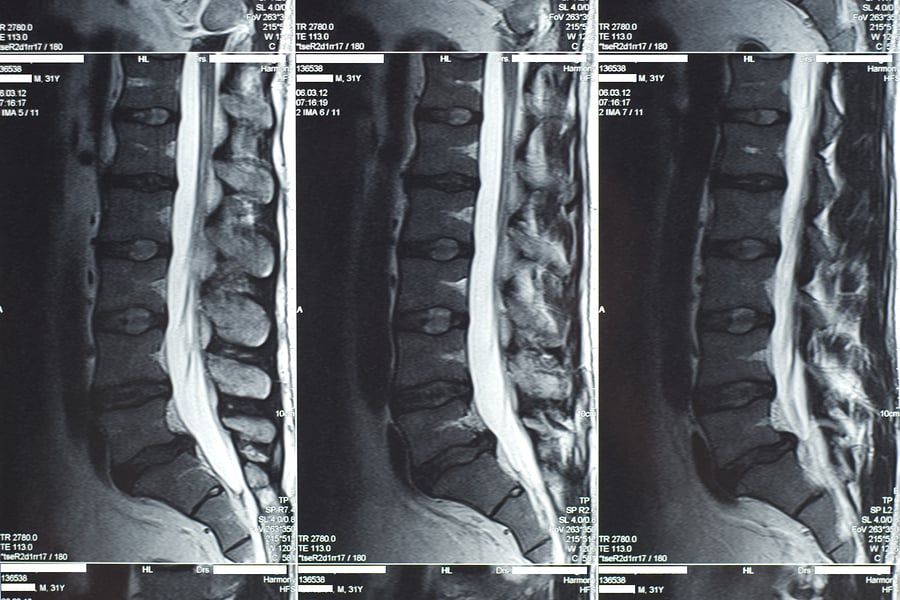 Spinal cord injuries are the most delicate and damaging injuries a person can receive, and the symptoms and long-term effects can be quite severe. Not so long ago, spinal cord injury (SCI) had a very poor prognosis, and most victims were told to say their goodbyes to family and friends. However, thanks to improvements in emergency care, infection prevention, physical therapy and rehabilitation, nerve and body function may be partially restored. Patients may also seek some solace in the fact that research is progressing every day, and new treatments have been very promising.
Types of Spinal Cord Research
Spinal cord injury research is being conducted at state-of-the-art institutions across the country. Most of this research is sponsored by the U.S. government through the National Institute of Neurological Disorders and Stroke (NINDS), which is a division of the National Institutes of Health (NIH). However, studies are also carried out and sponsored by dozens of other government agencies, non-profit organizations, hospitals, universities and private healthcare companies.
Because SCI is so complex, several different types of research are being conducted. Each type shows promise but handles the condition in a different way. Following are the four most prevalent types of SCI research.
Spinal Cord Injury Cell Replacement
Cell replacement is one of the more controversial types of SCI research because some of it involves the use of stem cells taken from human embryos, but new sources of stem cells are being sought so that the research may continue unhindered by ethical dilemmas. Stem cells are unique in that they can be trained to mimic any other cell in the human body, including CNS cells. Preclinical research has shown strong results so far:
• Schwann cells have the ability to surround damaged nerves and reconnect them to the spinal cord.
• Oligodendrocyte progenitor cells may reduce secondary symptoms and promote recovery.
• Stromal cells in bone marrow may speed recovery after spinal cord injuries by fostering the production of proteins required by nerves.
Cell Regeneration
Nerves cells have the ability to regenerate when they are damaged, but their capacity to do so is very limited. Spinal cord injury research has found that several drugs may stimulate regeneration and support damaged tissue. One study that has just received the green light to enter the clinical phase in September 2014 is being conducted by the University of Arizona Medical Center. Researchers here have found that a drug called SUN13837 may protect and regenerate neurons when it is administered within 12 hours after a spinal cord injury.
Neuroprotection
Neuroprotection research focuses on limiting the inflammation of nerve cells and preventing neurons from dying. Inflammation near the spinal cord or in associated nerves restricts blood flow and hinders the transmission of CNS signals. So far, steroids, antibiotics and hormones have all been used successfully in this research. In addition, white blood cells, known as macrophages, may promote growth when controlled effectively.
Retraining CNS Circuits
It may take quite some time for patients to recover from spinal cord injuries because the brain must reorganize how it controls the nerves, and new connections must be formed where neurons have died. The brain and the nerves, however, may be helped through this retraining process in several ways.

The NIH reported progress with intensive physical therapy in 2011, and functional electric stimulation (FES) has improved or fully restored paralyzed muscles. In addition, robotics and other electronic systems may be connected to the CNS to provide SCI patients with a greater range of movement. In June 2014, the U.S. Food and Drug Administration (FDA) approved the first wearable electronic device to help people walk, and further studies are being conducted by the Burke Medical Research Institute in White Plains, New York.

[otw_shortcode_button href="https://www.swoperodante.com/contact/" size="medium" icon_type="general foundicon-right-arrow" icon_position="left" shape="radius" color_class="otw-red" text_color="#fff"]Contact our experienced legal team today[/otw_shortcode_button]

Resources:

1. Christopher & Dana Reeve Foundation. "Can stem cell and spinal cord injury research help me?" http://www.christopherreeve.org/site/c.mtKZKgMWKwG/ b.4514651/k.C0C0/Research_Therapies.htm. 2. Congressionally Directed Medical Research Programs. "Spinal Cord Injury." http://cdmrp.army.mil/scirp/. 3. Huang, Vincent, M.D. "Spinal Cord Injury and Wearable Robotics." BrainBlogger. http://brainblogger.com/2014/09/09/spinal-cord-injury-and-wearable-robotics/. 4. KVOA News. "UAMC Trauma Center to study drug that may improve function after spinal cord injury." http://www.kvoa.com/news/uamc-trauma-center-to-study-drug-that-may-improve-function-after-spinal-cord-injury/. 5. Leuty, Ron. "Stem cell trial for spinal cord injuries cleared by FDA." San Francisco Business Times. http://www.bizjournals.com/sanfrancisco/blog/biotech/2014/08/ embryonic-stem-cells-asterias-geron-spinal-cord.html?page=all. 6. National Institute of Neurological Disorders and Stroke. "Spinal Cord Injury: Hope Through Research." http://www.ninds.nih.gov/disorders/sci/detail_sci.htm. 7. Robert Wood Johnson Medical School. "New hope for reversing the effects of spinal cord injury." ScienceDaily. ScienceDaily. http://www.sciencedaily.com/releases/2013/03/130312151947.htm. 8. University of Missouri News Bureau. "MU Research Sheds Light on Nerve Regeneration Following Spinal Cord Injury." http://munews.missouri.edu/news-releases/2013/

1121-mu-research-sheds-light-on-nerve-regeneration-following-spinal-cord-injury/.