The FJA presents Attorney Dale Swope with EAGLE Centurion Award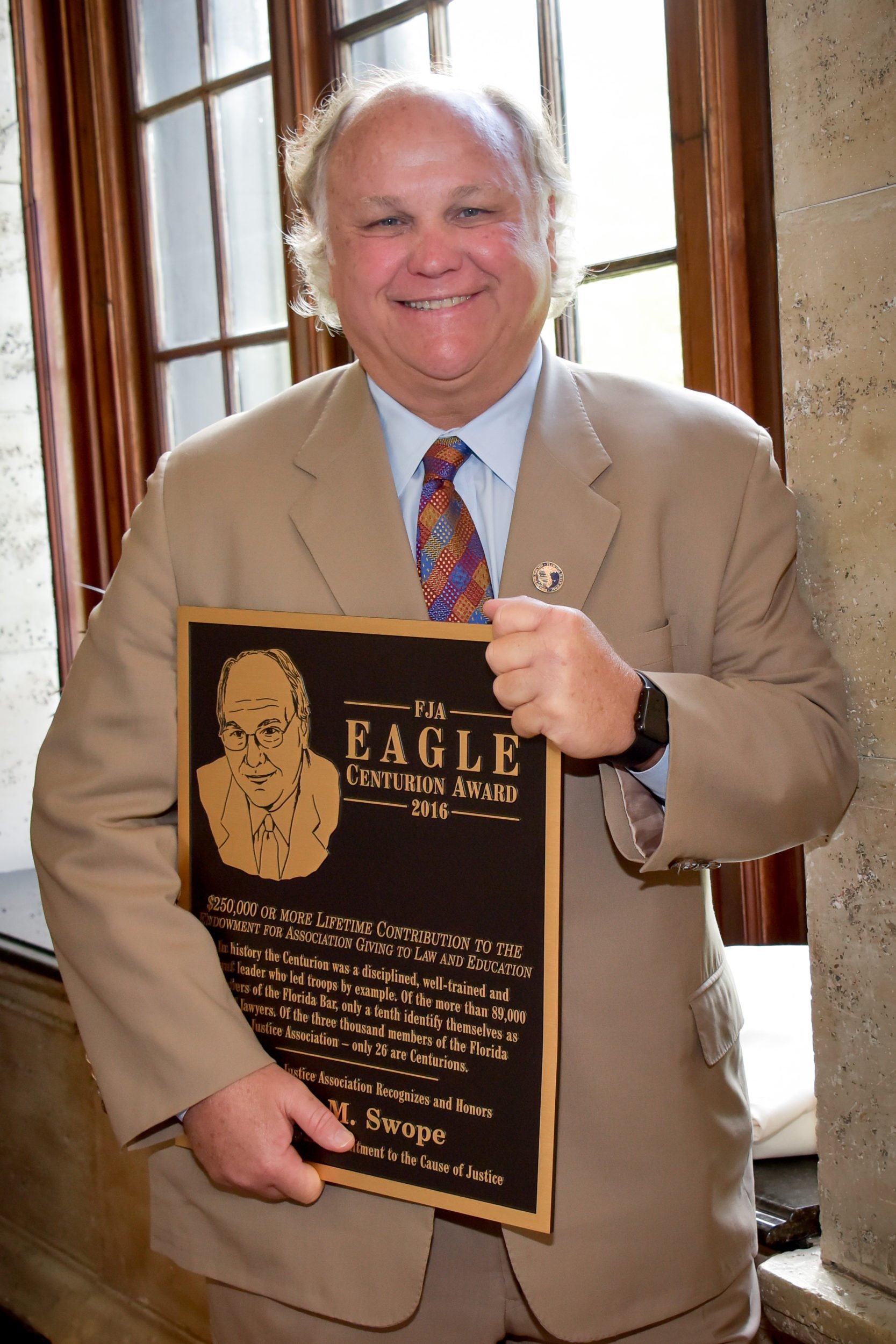 Swope, Rodante P.A. is proud to announce that Dale Swope, the firm's founding partner and President Elect of the Florida Justice Association (FJA), received the EAGLE Centurion Award at the 2016 FJA Annual Convention. Mr. Swope was presented with the award during the Justice Luncheon on Thursday, June 23, 2016. The EAGLE Centurion Award recognizes an exceptionally generous lifetime individual contribution to the FJA EAGLE Program. The FJA EAGLEs take the critical step from being a member of the organization to being a leader and advocate for public service, setting an example and leaving their mark to protect access to Florida's courts.
Mr. Swope also participated as the program co-chair during the Convention's Civil Litigation for Paralegals and Legal Assistants Seminar on Friday, June 24. In addition to EAGLE Centurion award, the FJA has also presented Mr. Swope with the Churchill Award in 2015, the Rough Rider & Teddy Roosevelt Award in 2011, the S. Victor Tipton Award in 2010, the Bronze, Silver and Crystal EAGLE Awards, the Mickey Smiley Award for Mentorship and he has been inducted into the EAGLE Hall of Fame. Mr. Swope is a committed member of the Florida Justice Association who actively seeks to protect and preserve the civil justice system.
About the Florida Justice Association
Founded in 1961, the Florida Justice Association is committed to upholding and strengthening the civil justice system in an effort to safeguard Florida's citizens and consumers. The Florida Justice Association works in the legislative, political and public arenas to ensure that Floridians know and understand the importance of their rights to justice and to make certain that these rights, which are at the very core of what it means to be American, are safeguarded and protected. To learn more about the Florida Justice Association or the EAGLE Centurion Award, please visit: www.floridajusticeassociation.org.