The Swope, Rodante Vanguard Award's Selection Board features an array of industry professionals, politicians, professional athletes, and local community leaders. Each member of the Selection Board brings a unique perspective that enables them to recognize all the different ways in which student athletes excel. Together, the Selection Board member's experience amounts to over 45 years in academic education and over 35 years in athletic performance. Once a month the members of the panel read through several student athlete nominations and, though it is not an easy process, they decide who the award recipient will be. Our firm is immensely grateful for the time and expertise that each Selection Board member volunteers to this award.
Claire Lessinger
Director Special Events, Tampa Bay Sports Commission
Claire Lessinger is a Clearwater native who has always been naturally drawn and committed to the sports industry. She herself was a volleyball player and coach for a total of over 15 years at the University of South Florida (USF). Since then, she has followed a career with the Tampa Bay Sports Commission, bringing a lot of attention to the sports industry in Tampa Bay. Claire is very well versed in this area, making her the perfect member of our Selection Board.
Lessinger has been a part of the Tampa Bay Sports Commission (TBSC) since July of 2012, and she took on the role of Vice President of Events in 2019. Lessinger focuses on driving economic and social impact by identifying and bidding on sporting and entertainment events in Tampa Bay. She has been a liaison between TBSC and the NCAA many times for their DI and DII Championship Conferences, as well as hosting NHL All-Star Weekends in partnership with the Tampa Bay Lightning. Most recently, Lessinger served as the Chief Operating Officer for the Tampa Bay Super Bowl LV Host Committee, helping deliver a historic and unprecedented 5th Super Bowl to the Tampa Bay community.
Lessinger has been recognized by numerous organizations throughout her career. She featured as one of the most influential women in Tampa Bay sports by the Tampa Bay Times. She has made a great impact in the "Beyond Series," which empowers women across Tampa Bay sporting events, and she has also been a mentor for the USF Athletics Selmon Mentoring Institute. Also at USF, she serves on the Executive Board of USF's Women in Leadership and Philanthropy.
Prior to joining TBSC, Lessinger was the head volleyball coach at USF for eight years, and assistant volleyball coach for seven years, totaling a time of fifteen years spent coaching. Her coaching time came naturally to her, as she had already spent 4 years playing collegiate volleyball at the University of Florida (UF). While playing collegiate volleyball, she won five SEC Championships, participated in five NCAA Tournaments and three Final Four Tournaments. In honor of her relentless effort, the UF volleyball program established the "Claire Roach Defensive Award" which is still presented annually to the best defensive player on the team.
Claire, raised in Clearwater, and her husband reside in Tampa with their two sons.
Lanness Robinson
Director of Athletics, Hillsborough County Public Schools
Lanness Robinson has had a lengthy career in educational athletics, now amounting to over 25 years. He has played sports himself, served as coach, athletic director, and now county-wide director of athletics. Mr. Robinson's accomplishments show he is not only passionate about athletics, but also greatly committed to bettering the programs that help student athletes form a future.
Lanness Robinson has been the Director of Athletics with Hillsborough County Public Schools for over 15 years. He has overseen the nation's 7th largest school district's athletic program, which consists of about 20,000 student-athletes and 2,000 coaches. Prior to this, he held leadership positions at Wharton High School, Plant City High School, and Godby High School. He was a coach for over 5 years, immersing himself in the necessities of the programs and its athletes, and he was assistant principal for over 5 years as well, learning the necessities of staff and school-wide programs and operations. Prior to beginning his time in the education system, he earned his master's degree in educational leadership from Saint Leo University.
Robinson was selected to become the 41st President of the NIAAA Board in 2020, making him the fourth Floridian to serve as President and holding the distinction as the association's first African American president. Prior to serving as President, he served as Region A representative, he served on the Awards Committee, the Blue Ribbon 2015 Panel, and the Professional Development Task Force of 2013. At a state level, he serves as the Florida IAAA (FIAAA) Chair of the Strategic Plan Committee as well as serving as Florida's LTI State Coordinator
Awards/Honors
2019 NFHS Citation Award
2015 FIAAA Dr. Clarence Noe Athletic Administration of the Year
2015 Positive Coaching Alliance Leadership Fellow
2009 NIAAA State Award of Merit
Santiago Corrada
President and CEO of Visit Tampa Bay
Santiago Corrada is an accomplished Tampa Bay figure with over twenty-five years of public service experience. He is an expert at understanding the work city departments do to give residents a better quality of life. Santiago spent 17 years in the Miami-Dade County school system, and shortly after he was recruited to as Chief of Staff for the City of Tampa. Santiago is passionate about bettering the lives of all Tampa residents.
Santiago Corrada is an expert when it comes to Tampa Bay tourism, and more than anything he has an outstanding capability to build connections. These skills have successfully enabled him to manage convention centers, organizations, and teams.
Corrada began his current position as President and Chief Executive Officer of Visit Tampa Bay in May of 2013. He is responsible for the oversight of all agency activities, day-to-day operations, and assuring a smoothly functioning, efficient organization. He serves as the main spokesperson for the tourism and hospitality industry; ensures stakeholders coordinated efforts in collaboratively increasing visitation to the destination while maintaining open lines of communication. Visit Tampa Bay has been awarded numerous marketing awards over the years, including four HSMAI Platinum Adrian Awards, and most recently four Henry Awards at Visit Florida's Flagler Award Ceremony.
Corrada individually has received HSMAI's Top 25 Award for Extraordinary Minds in Hospitality, Sales and Marketing. He was also recognized as Hillsborough County's Hispanic Man of the Year in 2013.
With more than 20 years of public service and management experience, Corrada previously served as Chief of Staff for the City of Tampa. In this role, he coordinated and integrated the efforts of more than 50 City departments and divisions. In his tenure with city government, Santiago participated in bidding and hosting efforts for large meetings and groups including Super Bowl XLIII and the 2012 Republican National Convention.
Prior to joining the City of Tampa in 2004 as Neighborhood Services Administrator, Santiago served as the Director of Parks and Recreation for the City of Miami, and spent 17 years in the Miami-Dade County School System.
His current Board Affiliations include The Florida Aquarium-Board and Executive Committee, Hillsborough County Hotel Motel Association-Board and Executive Committee, Outback Bowl, Arts Council of Hillsborough County, Hillsborough County Human Trafficking, Hillsborough County Cultural Assets, Straz Center for the Performing Arts, Tampa Bay Hospitality Alliance Board, Tampa Bay Sports Commission, Tampa Hillsborough Film and Digital Media Commission, The Tampa Club, USF CAMLS Health Professions Conferencing Corporation, Tampa Theatre, Tampa's Lowry Park Zoo-Board and Executive Committee.
Corrada graduated Magna Cum Laude from the University of Miami with a Bachelor's Degree in Psychology and Exceptional Student Education as well as a Master's in Education.
Candace Culver
Vice President of Community Partnerships at Tampa YMCA
Candace Culver is dedicated to the nonprofit work she does at the YMCA. She has served at the Y movement for over 18 years, beginning when she was a teenager. Candace is a valuable member of the Selection Board, as the work she does every day directly impacts many student athletes alike.
As a mission-driven nonprofit professional, Candace is passionate about ensuring access to equitable opportunities for everyone. Her career with the YMCA allows her to serve parents looking for quality childcare, cancer survivors seeking support during their recovery, seniors striving to stay active and connected, among many others that benefit from the Y's services every day.
As the Vice President of Community Partnerships, Candace builds relationships and identifies collaborations that benefit the greater Tampa Bay community. She brings together civic & corporate leaders, volunteers, community stakeholders and YMCA staff to address issues affecting the community and provide the necessary resources to make change happen. Her efforts grow philanthropic support through annual giving, grants, corporate donations and capital campaigns.
Candace has served the Y Movement for over 18 years, beginning part-time as a teenager and working through college. She explored other careers in customer success, merchandising, and the interior decorating field, but always felt drawn to servant leadership. In 2010, she returned to the Y and progressed from the Executive Director for out-of-school time programs to the Development team. Candace is proud to represent the Y as a current member of the Leadership Tampa Class of 2022, and on the planning team for the 2022 North American YMCA Development Organization (NAYDO) annual conference.
She obtained her bachelor of arts degree from the University of Alabama and a master of business administration degree from Lindenwood University in St. Louis. She and her husband, Earl, have been married for 25 years. Their family includes sons Hunter and Logan, daughter Faith and son-in-law Jack. She enjoys the Florida lifestyle – spending time at the beach and taking advantage of outdoor activities.
Nicholas Rodriguez
Head of School – Corbett Preparatory School of IDS
Nicholas Rodriguez is the head of school at Corbett Prep, giving him a direct oversight of many student athletes who require the support of their athletic programs. Throughout his career he has served many different positions that allow him to see the importance of athletic program donations. In 19 years in the school system, he has been a leader that has for programs that better the lives of students. Nicholas Rodriguez is a true advocate for educational and athletic development.
Nicholas B. Rodriguez joined Corbett Prep as Head of School in July 2020 and brings to the position a wealth of experience in school leadership and administration, institutional advancement and International Baccalaureate education.
During his 19 years in private and independent schools, Rodriguez has served in nearly all roles throughout an institution, including Head of School, Assistant Head of School, administrator, teacher, coach and volunteer. He is a gifted leader who has exhibited proficiency and success as a senior administrator at three Tampa-area private schools, most recently as Head of School at Brandon Academy.
In his three years at Brandon Academy, Rodriguez led the development of a new IB program, oversaw multiple facility improvements, strengthened staff and community communication and boosted enrollment.
Rodriguez served as Assistant Head of School at Carrollwood Day School for five years prior to Brandon Academy. He was an integral part of the administrative team at CDS that transformed the campus, including building the school's first gymnasium and athletic complex, upgrading the early childhood campus and making numerous updates in the theatre and art department.
In 2011, a year-long fellowship program at Corbett Prep, then Independent Day School, allowed Rodriguez the opportunity to hone his leadership skills. He studied leadership and curriculum, including Corbett Prep's M.O.R.E. Model, under Dr. Joyce Burick Swarzman. Prior to that, he was the Admissions and Advancement Director at Bishop McLaughlin Catholic High School from 2005 to 2011 where he guided admissions and development programs and multiple student life initiatives.
Rodriguez is a Tampa native – a graduate of Tampa Prep and the University of South Florida – and holds a Master's Degree in Education from Greenville University. As a former college athlete, Rodriguez has remained active in promoting health, wellness and athletics throughout his career. He is an award-winning high school baseball coach who guided his teams to multiple district championships, and he is gratified to see his alumni play at all levels around the country. He has coached varsity baseball, girls and boys basketball, and golf. His teaching experience includes health studies, American history and physical education.
He and his wife, Melanie, have two children, Xavier, 12, and Sloane, 8.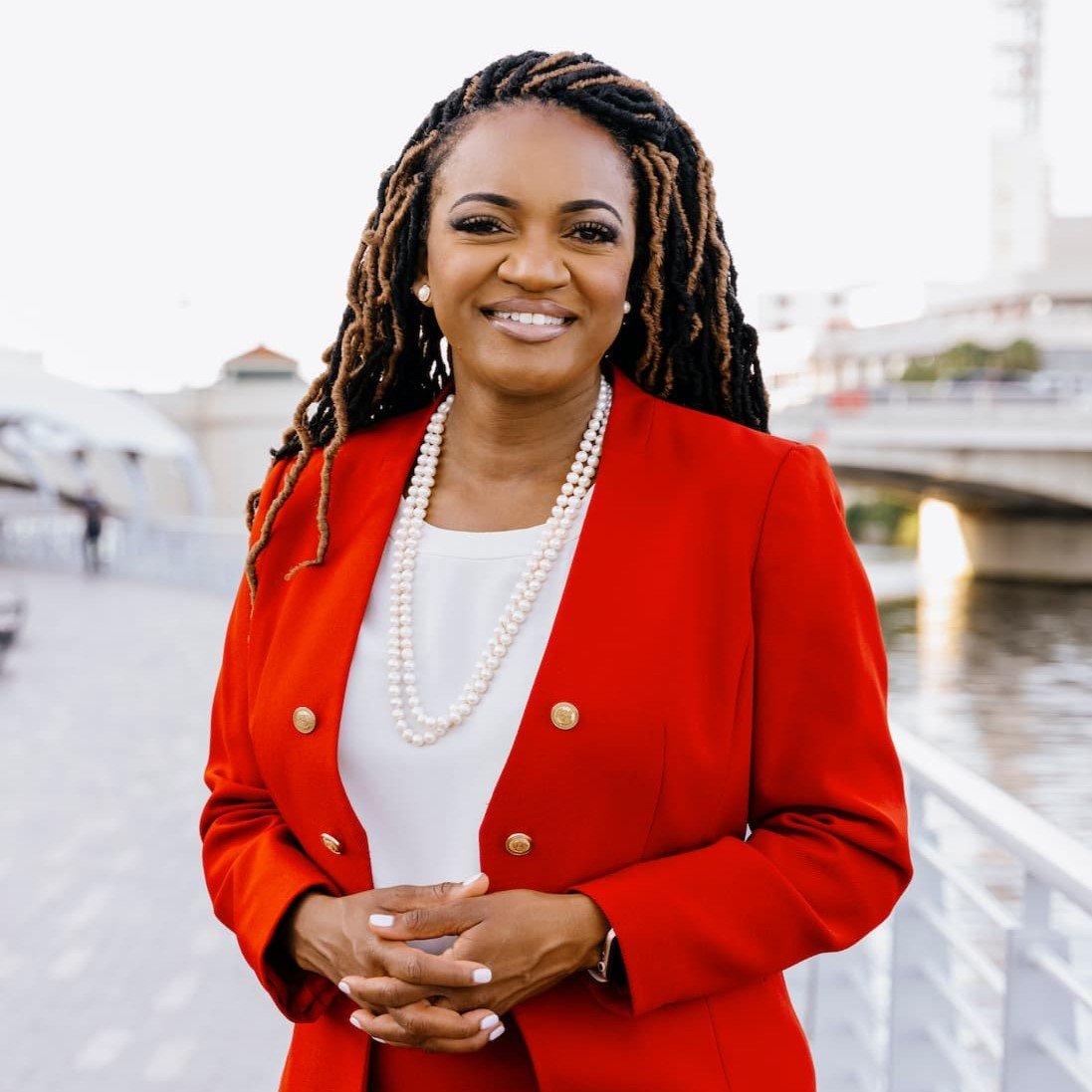 Fentrice Driskell
Minority Leader of the Florida House of Representatives
Minority Leader Fentrice D. Driskell was first elected to the Florida House of Representatives in November 2018. Her approach of bringing common sense solutions to our state's most pressing challenges related to public education, the environment, affordable housing, social and racial justice, public safety, and economic opportunity for all allows her to bring accessible, passionate representation to District 67, which includes parts of Carrollwood, Lutz, Temple Terrace, the University of South Florida, and New Tampa.
In 2022, Driskell's peers unanimously elected her as Leader of the Democratic Caucus, making her the first Black woman to lead either caucus in the Florida House. Leader Driskell currently serves on the Appropriations Committee and previously served on committees and subcommittee such as Judiciary, Insurance and Banking, Health Care Appropriations, and the Select Committee on Hurricane Resiliency & Recovery.
In 2023, EMILYs List honored Leader Driskell as its 10th Annual Gabrielle Giffords Rising Star Award recipient. Past winners of this prestigious award include former Georgia House Minority Leader, Stacey Abrams, Colorado House Speaker Crisanta Duran, and U.S. Representative Ayanna Pressley. In the same year, Ruth's List Florida honored Leader Driskell with its Carrie Meek Award, named after the first Black woman to serve in the Florida Senate and the first Black person to represent Florida in congress since Reconstruction.
Leader Driskell is an AV Preeminent-rated attorney who currently practices law with Carlton Fields in Tampa, Florida. Leader Driskell attended college at Harvard University, where she graduated in 2001 with an honors degree in Government and where she was the first African-American woman to be elected President of Harvard's student government. Leader Driskell's experience as Undergraduate Council President helped strengthen her belief in the importance of engaging women in leadership positions, and her studies in Government helped her better understand the importance of engaging diverse voices in the democratic process.
Leader Driskell also is a graduate of Georgetown law school, where she served as a student lawyer for indigent survivors of domestic violence and volunteered extensively with the Innocence Project. Following law school, Leader Driskell clerked for federal judge Anne C. Conway in the United States District Court for the Middle District of Florida. Since 2006, Leader Driskell has lived in Tampa where she has led or served on the boards of numerous organizations, including the George Edgecomb Bar Association, Athena Society, Tampa Crossroads, and the Hillsborough Education Foundation. Florida Super Lawyers magazine has recognized Leader Driskell as a "Rising Star" each year since 2011, and she was named part of Florida Trend's "Legal Elite" in 2019. She is also active in The Florida Bar and has helped lead committees there.
Additional Select Honors:
In 2023, the National Coalition of 100 Black Women (Tampa Bay Chapter) honored Leader Driskell with its "Passing the Torch in Leadership" Award in the category of Public Policy/Community Activism.
In 2021, Leader Driskell received the "Friend of Public Education" Award from the Florida Education Association, the "Friend of the Sheriff's" Award from the Florida Sheriff's Association, and the "Whitney M. Young Jr. Service" Award from the Greater Tampa Bay Area Council, Boy Scouts of America.
In 2020, her peers elected her as the Parliamentarian of the Florida Legislative Black Caucus.
In 2019, the Florida League of Cities recognized Leader Driskell with a Legislative Appreciation Award for her efforts in defending local governments and home rule during her first legislative session. In the same year, the Speaker of the Florida House appointed Leader Driskell as a Commissioner on the Florida Women's Suffrage Centennial Commission to help guide the state's plan for commemorating the passage of the Nineteenth Amendment.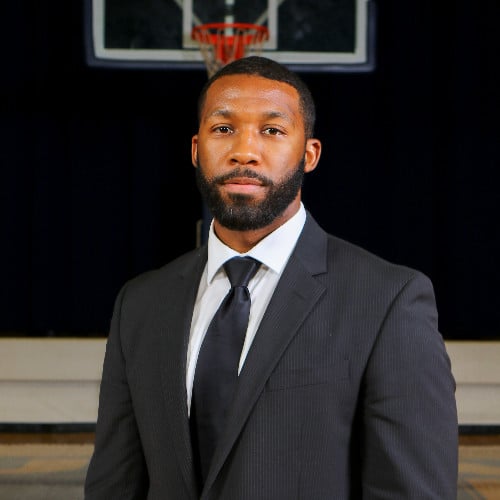 Carlton Rice
Assistant Athletics Director at USF
USF Athletics welcomed Carlton Rice to Tampa as the Assistant Athletics Director for Student-Athlete Enhancement in January of 2022.
In his position, Rice oversees the day-to-day operations of the Student-Athlete Enhancement unit including staff, programming and execution. He has a special focus on the areas of leadership advancement including the Student-Athlete Advisory Committee (SAAC), the Black Student-Athlete Council (BSAC), and the Student-Athlete Leadership Academy. Personal enhancement and department wide events are other areas he works very closely with.
Rice, is pursuing his doctorate of education from Tennessee State University, came to USF after serving eight years as the athletic director at Lawson State Community College (2013-21) in Birmingham, Ala. He also previously served as athletic director at Burke High School (2009-13) in Charleston, S.C., and worked as a physical education instructor and as a graduate assistant in the Alabama A&M athletics department.
Rice was a football letterman at Mississippi State (2003-06), where he earned his bachelor's degree in physical education in 2006, and at Alabama A&M, where he was the Defensive MVP and earned his master's degree in physical education in 2009.
Senator Arthenia Joyner
Former Minority Leader of the Florida Senate
Ms. Joyner serves as Of Counsel at Swope, Rodante P.A. Ms. Joyner began a career in law because she viewed it as an opportunity to find justice for those in need and she has taken every opportunity to do so. As a groundbreaking leader in the legal community, Ms. Joyner was the first female black attorney in Hillsborough County and has always been dedicated to helping the local community.
Senator Arthenia L. Joyner is a dynamic individual whose personal life reads like a chronicle of the struggle for equal justice. She has not just lived history, she made it. Senator Joyner is Of Counsel at Swope, Rodante P.A in Tampa, FL, practicing in the area of personal injury. Born in Lakeland FL and reared in Tampa, she grew up in a time of segregation and has always been determined to end it. Senator Joyner began her long march for equality as a high school student in Tampa protesting for change. That journey took her to jail cells in Tallahassee during her undergraduate years at Florida A&M University when she was twice arrested for demonstrating against segregation and spent 14 days in the Leon County, FL jail. When president of the National Bar Association, she was arrested for protesting apartheid outside of the South African Embassy in Washington, D.C.
Joyner entered politics in the early '70s when she chaired Shirley Chisholm's presidential campaign, Jesse Jackson's 1984 and 1988 presidential campaigns, and co-coordinator of Lawton Chiles' 1990 gubernatorial campaign, and Bill Clinton's 1992 presidential campaign in Tampa.
A graduate of Florida A&M University College of Law, she was Florida's fifth black female lawyer, the first black female lawyer in Hillsborough County, the first black lawyer in Polk County, the first black female lawyer to serve on the board of the Hillsborough County Bar Association, first black appointed by Governor Lawton Chiles to the Hillsborough County Aviation Authority, the first black woman appointed to the Board of Directors of the Greater Tampa Chamber of Commerce, the first black female State Representative and State Senator elected from Tampa, the first black female lawyer in the Florida Senate and the first black female to lead the Senate Democratic Caucus. Joyner has practiced law for fifty (50) years – longer than any black woman in the history of Florida.
Her most prestigious appointments came from President Clinton, including the U.S. Delegation to the United Nations 4th World Conference on Women. She is widely recognized for her leadership on women's and human rights issues and her relentless passion for justice, truth, and equal rights. The Hillsborough County Board of County Commissioners and the Tampa-Hillsborough Library Board recently celebrated her many contributions to Florida and the community by naming its new $9.3 million library in her honor.