Charity Spotlight: The Ronald McDonald House of Tampa Bay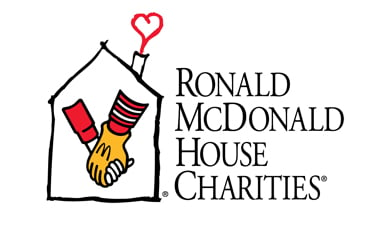 The original Ronald McDonald House was established in Philadelphia in 1974. NFL player Fred Hill discovered a lacking resource for parents whose children required hospital treatment away from home, such as Hill's own 3-year-old daughter who had leukemia. Families had nowhere to stay and were forced to camp out in hospital waiting rooms. In a few short years, Hill's teammates raised enough funds with the help of McDonald's restaurants and the first House opened its doors in Philly later that same year.
Ronald McDonald House Tampa Bay
Today, there are a total of 286 Ronald McDonald House locations in over 35 countries worldwide. Tampa Bay's locations are comprised of four Houses, three in St. Petersburg and one in Tampa. Visiting families in need of assistance are served by 80 bedrooms with private baths. The Tampa Houses are owned and operated by Ronald McDonald House Charities of Tampa Bay, a non-profit Florida corporation governed by a community-based member board consisting of local parents, leaders, McDonald's corporate representatives, medical professionals and a few other dedicated individuals.
Each of Tampa's Houses are designed to serve as a "home-away-from-home". Approximately 2,000 pediatric families utilize the program every year. Many families travel for hours or even days away from home to get the best treatment for seriously ill or injured children. Treatments can last a day, a month, or much longer. It's a long time to be away from home, and families can feel uprooted and divided without the proper support and resources.
In 2011, Ronald McDonald House of Tampa Bay cared for 1,775 families from Florida, 31 other states and 16 foreign countries. The average family stay was about 7.7 days while their child received treatment in a nearby area hospital. The Ronald McDonald House offers families a way to stay together, in proximity to the treatment hospital, and to be comfortable and supported during their stay.
Locations
St. Pete West: This location houses 18 bedrooms and was opened in 1980. It's located adjacent to All Children's Hospital.
Tampa: This 14-bed house opened in 1992 on Davis Island, designed to support families seeking treatment at Tampa General Hospital. Today, the Davis Island House serves families from Tampa General, St. Joseph's Children's Hospital and Shriners Hospital.
St. Pete East: This is Tampa's largest area House with 34 bedrooms, situated next to All Children's Hospital since 1996.
St. Pete Central: The region's newest house, SPC opened in March 2010 inside the new Outpatient Care Center at All Children's Hospital. This house offers 14 bedrooms for all families with children undergoing treatment at the hospital. 
Contact Information
Families seeking assistance from Ronald McDonald House of Tampa can visit the center's website here.
Another resource for both prospective families and those wishing to donate money, materials, or time, can contact the Administrative Office or visit this page.
ADMIN OFFICE
28 Columbia Drive
Tampa, Florida 33606-3543
Tel: (813) 258-6430
Fax: (813) 258-6517
Local Law Firm Pitches In
This past Thursday, October 17th, staff members from Swope, Rodante P.A. volunteered time during the evening shift to help the Tampa House prepare and serve dinner to families. Smiles were everywhere as legal professionals by day were transformed into cooks by night to supply a hearty dinner experience for all.
References: