Walmart to Pay $25 Settlement Over Defective Gas Can Injury Claims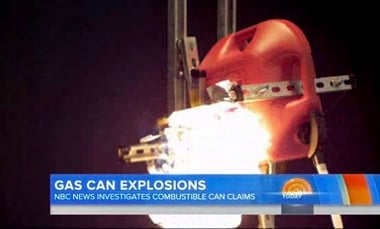 Wal-Mart, the nation's largest big-box retailer, has agreed to pay $25 million as a settlement contribution to settle unresolved personal injury lawsuits filed by on behalf of victims who were injured or killed by exploding portable plastic gas cans, according to a news report by NBC.
Wal-Mart is the largest US reseller of the alleged defective product, plastic gas cans manufactured by Blitz. According to the lawsuit, Wal-Mart allegedly sold tens of millions of the Blitz gasoline containers with safety defects. Blitz, maker of the gas cans and other plastic containers, is in bankruptcy, largely due to litigation and settlement payouts.
Lives Lost Over Unit Costs of a Few Cents
Over the course of the past decade, at least 80 separate lawsuits have been filed by people who allege the exploding gas cans caused them burn injuries. Defendants include a number retailers as well as the manufacturer, Blitz. Wal-Mart informed NBC News it was named as a defendant in a total of 24 of the lawsuits.
According to the lawsuits, both Blitz and Wal-Mart are accused of "knowingly selling a defective product that could explode and produce catastrophic and sometimes fatal injuries". The lawsuits further allege the defendant (Blitz) refused to add a safety device, known as a flame arrester, to make the cans safer.
Most consumer-grade gasoline cans are manufactured without a flame arrester. Some experts have argued that adding this basic safety feature would cost only a few pennies at most. A flame arrester is a small piece of wire mesh, like a fine screen, placed inside the spout of a gas can. The holes are narrow and extremely close together – large enough to allow fluid to pass through but narrow enough to deter against the migration of vapors (the trigger for a gasoline explosion).
Lawsuits Filed by Burn Injury Victims, Wal-Mart Denies Liability
Parties to the lawsuits, including Blitz USA's estate, debtors, participating insurers and Walmart, have agreed to contribute a total of $161 million to settle with many of the plaintiffs, while denying liability. Wal-Mart's financial contribution equates to just over 15 percent of the proposed $161 million fund that aims to settle dozens of lawsuits. A hearing on the proposed settlement is set for early in January.
In depositions, Wal-Mart officials insisted that the manufacturer, Blitz, was responsible for the safety of the product. A former gas can buyer for Wal-Mart, Jacques DesHommes, said when questioned in 2010 that even after being sued over alleged gas can explosions, the company did not follow-up or investigate claims of explosions to see if and how they were actually happening. DesHommes said:
"Wal-Mart does not test the can, the products. The suppliers test the products."
Diane Breneman, an attorney who has represented about 30 of the plaintiffs in separate gas can claims, said Wal-Mart should have used its power years ago to demand these cans be made safer.
"If you repeatedly are sued in cases and the allegations are people are being severely burned or burning to death, you can't hide your head in the sand," Breneman said. "You're making money off of those cans. You have a responsibility at that point to investigate it, to do whatever is necessary, if you're going to continue to sell the product."
References: