Swope Rodante Community Service Grant helps to Serve More than 100 Members of the SCI and Parkinsons' Communities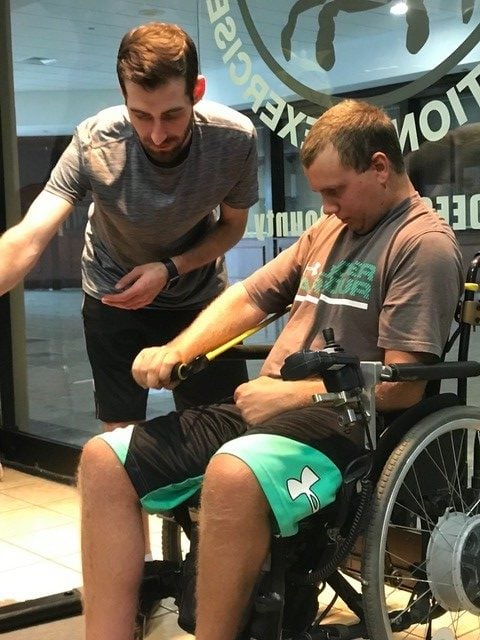 With a deep desire to make a positive and lasting impact, Larry Zarzecki II has used the scholarship money he was awarded from the 2018 Swope Rodante Community Service Award and reinvested it into the lives of individuals living with movement disorders, including Parkinson's. Zarzecki, the Founder and CEO of Movement Disorder Education and Exercise (MDEE), Inc., a fitness program geared for Parkinsons' patients, people with traumatic brain injuries (TBIs), spinal cord injuries (SCIs), and others with limited mobility who exhibit neurological symptoms, is passionate about helping people through exercise, education and support. Since receiving the Spring 2018 Service to the Catastrophic Injury Community Award by Swope, Rodante P.A. he has helped more than 100 people through the nonprofit foundation he helped establish that offers holistic patient health, wellness and outreach programs.
Vincent J. Martorana, one of the participants in MDEE, said this in his letter of recommendation:
"Larry is compassionate not only because he too suffered a spinal cord injury but because compassion is part of his DNA. His multi-faceted approach to provide us with a program developed in concern with Neuro-physiatrists, physical therapists and movement disorder specialists is well balanced and effective. He has helped many move from the restrictions of a wheel chair to greater independence and walking."
Making a Profound Impact
After being diagnosed with Parkinson's Disease nearly 10 years ago, a progressive and degenerative disorder that affects the central nervous system, Larry suffered a freezing episode which led to him falling down the stairs and sustaining a complete spinal cord injury and shattering his C2-C7 vertebrae.
Determined to transform a painful situation into something positive, Larry spent the following year relearning how to walk, care and feed himself again. During his recovery process, he discovered a gap in what was being offered by healthcare systems and medical providers and what patients needed in terms of rehabilitation and support. He consulted with
other patients and doctors, psychologists, neuropsychologists, and movement disorder specialists center in order to create pathway and holistic program to help individuals with neurodegenerative issues.

Over the past five years, Movement Disorder Education and Exercise, Inc. has grown to include two outreach centers in Baltimore and Westminster, Maryland. MDEE volunteers extend outreach to rural areas of Maryland, Delaware, Pennsylvania, Virginia and West Virginia.
Grateful for the ability to positively impact more individuals, Zarzecki explained, "The Swope Rodante Community Service award has made a difference and shall continue to pay forward to many for years to come."
About the Award
Swope, Rodante P.A. recognizes individuals who selflessly provide support and guidance to the victims affected by catastrophic events and their families. The spinal cord injury law firm offer a $2,500 award twice a year — once in the fall and once in the spring — to deserving individuals for their efforts.
To learn more about the Catastrophic Injury Community Service Award or to nominate someone click here.