Justin Moffatt Recognized with the Swope, Rodante Vanguard Award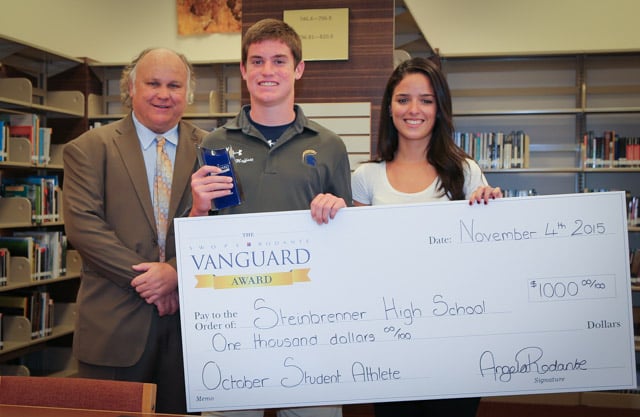 The Swope, Rodante Vanguard Award Selection Board is pleased to share that Steinbrenner High School senior Justin Moffatt has been selected as the "October Student Athlete of the Month." The mission of The Swope, Rodante Vanguard Award is to celebrate outstanding high school student athletes and coaches throughout Hillsborough County. Dale Swope presented Justin with the award as well as a $1,000 check to be donated to the school's athletic department on Wednesday, November 4th.
A member of Steinbrenner's football and track teams, Justin was nominated by his football coach, Michael Bosco. Coach Bosco explains that Justin is a leader in every sense of the word. Justin has led his team in receptions and was third in class 7A receptions as a junior. In an effort to help strengthen the team, Justin has been willing to try a variety of positions including, wide receiver, kick returner, punt returner, quarterback and running back out of the team's wildcat package.
Additionally, Justin gives back to the community through BETA, NHS and volunteer work with the Steinbrenner football program. Justin has maintained an outstanding GPA throughout high school and hopes to attend the Naval Academy after graduation.
REQUIREMENTS FOR NOMINATED STUDENTS
The student athlete's name and year (juniors and seniors only);
Current overall GPA (GPA of 3.0 or above);
Sport and athletic achievements; Community involvement;
Any hardships overcome by the student athlete;
and Plans for continuing education.