Medical Malpractice and Misdiagnosis: Understanding the Link
In the realm of healthcare, accurate and timely diagnosis is crucial for effective treatment and patient outcomes. However, when medical professionals fail to properly diagnose a condition or provide a delayed diagnosis, it can have severe consequences for patients. Misdiagnosis is a significant issue that often leads to medical malpractice (med mal) claims. As a trusted law firm specializing in med mal cases, Swope, Rodante P.A. aims to shed light on the link between misdiagnosis and med mal. cases. It is important for Floridians to understand this connection, its implications, and the importance of seeking legal recourse.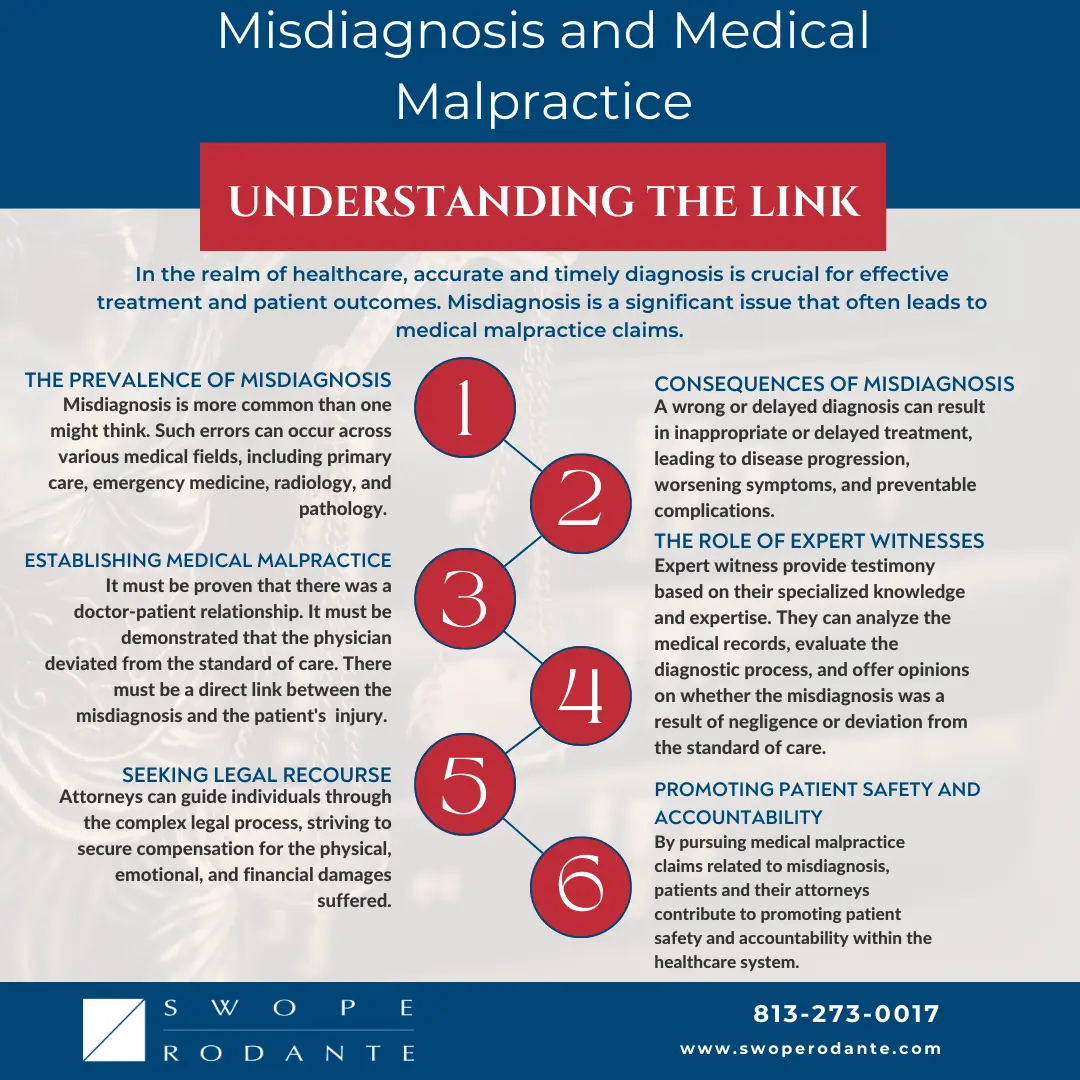 The Prevalence of Misdiagnosis
Misdiagnosis is more common than one might think. According to a study published in the journal BMJ Quality & Safety, diagnostic errors affect approximately 12 million adults in the United States each year. This means that one in every 20 adult patients may experience a misdiagnosis. Such errors can occur across various medical fields, including primary care, emergency medicine, radiology, and pathology.
Consequences of Misdiagnosis, is it Medical Malpractice?
Misdiagnosis can lead to a cascade of negative outcomes for patients. A wrong or delayed diagnosis can result in inappropriate or delayed treatment, leading to disease progression, worsening symptoms, and preventable complications. In some cases, patients may undergo unnecessary surgeries or treatments, exposing them to additional risks and potential harm. Misdiagnosis can also result in emotional distress, financial burdens, and a loss of trust in the healthcare system.
Establishing Medical Malpractice
Not every misdiagnosis constitutes medical malpractice. To establish a med mal claim, certain elements must be met. Firstly, it must be proven that there was a doctor-patient relationship, meaning that the physician had a duty to provide care. Secondly, it must be demonstrated that the physician deviated from the standard of care, meaning they failed to provide treatment that other competent medical professionals would have given under similar circumstances. Lastly, there must be a direct link between the misdiagnosis and the patient's harm, such as worsened health or additional complications.
The Role of Expert Witnesses
In medical malpractice cases involving misdiagnosis, expert witnesses play a vital role in establishing the link between the medical professional's negligence and the harm suffered by the patient. These experts, often experienced physicians or healthcare professionals, provide testimony based on their specialized knowledge and expertise. They can analyze the medical records, evaluate the diagnostic process, and offer opinions on whether the misdiagnosis was a result of negligence or deviation from the standard of care.
Seeking Legal Recourse
When patients experience harm due to misdiagnosis and believe it may be the result of malpractice, it is essential to consult an experienced medical malpractice attorney. Our attorneys at Swope, Rodante P.A., have the expertise and resources to thoroughly investigate the case, gather evidence, consult with expert witnesses, and advocate for their clients' rights. They can guide patients through the complex legal process, striving to secure compensation for the physical, emotional, and financial damages suffered.
Promoting Patient Safety and Accountability
By pursuing medical malpractice claims related to misdiagnosis, patients and their attorneys contribute to promoting patient safety and accountability within the healthcare system. These legal actions shed light on the importance of accurate diagnosis, encouraging healthcare providers to review their practices, improve diagnostic protocols, and ensure thorough evaluations. This, in turn, helps prevent future cases of misdiagnosis and protects the well-being of patients.
Misdiagnosis is a distressing experience that can have severe consequences for patients. Understanding the link between misdiagnosis and med mal is crucial for individuals seeking legal recourse for their suffering.