Parasailing Accident Statistics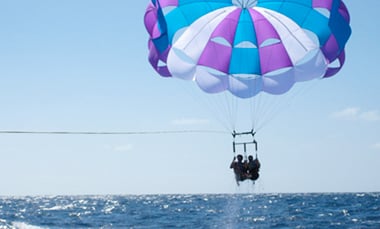 In Florida, tourists and other beachgoers can enjoy the view from 500 feet in the air on a parasailing trip. The majority of Florida's reputable parasailing operators enjoys accident-free records and will disclose details about their equipment inspection and maintenance procedures. However, a number of horrific parasailing accidents and parasailing deaths in recent years have sparked increasing concerns over parasailing safety and liability. In the Florida Senate, a bill to regulate the parasailing industry is currently pending and is expected to pass in the near future.
Parasail Accidents
Parasailing can be a dangerous activity. Participants entrust their safety to the competence of the operators and the reliability of a parasailing harness, parachute, cables and secure tie points. According to data maintained by the Parasail Safety Council, the most common parasail accidents occur due to:
Tow line separation from the boat: The tow line physically breaks or separates at a connection point – parasail riders float adrift and may crash ashore.
Equipment failure: This can involve harness failure if a parasail rider may not be properly secured.
High speed water and deck landings: High winds or faulty equipment may result in an emergency water landing or the canopy may be brought in too quickly, causing injury to passengers as they're brought back in to the boat.
Canopy rotation: If the canopy/parachute is damaged or fails, it may begin to twist or spin in the sky – increasing potential for line failure, ensnaring or a forced water landing.
Line popping: Changing winds or inconsistent boat speed may produce slack in the tow line, and then a sudden pull makes the line abruptly taut. The line may pop or suddenly jolt the parasail riders.
Whiplash: If the tow line pops due to adverse winds or other factors, the forces can be strong enough to cause a whiplash injury to parasail riders.
There are two types of parasail rigs – harnesses and gondolas. A harness often consists of a seat and loops fitted around the rider's body – much like a parachute harness. A gondola is actually a small boat bench in which riders are seated comfortable. The structure is similar to a small paddle boat. The entire gondola is secured to larger canopy and then hoisted into the air. Seating in the gondola can be more comfortable and riders are brought back down gently into the water without getting wet. They needn't worry about grabbing a hook or placing their feet down on the boat deck at the end of the ride.
Parasail Accident Statistics
The Parasail Safety Council reports more than 70 people have been killed and at least 1,800 injured between 1982 and 2012, out of an estimated 170 million parasail rides during those 30 years.
Of the estimated 170 million parasail rides, 141 million used harnesses while about 29 million used gondolas. Statistics supports a lower occurrence of accidents regarding gondola-style parasail rigs versus harnesses.
Based on Parasail Safety Council data, 520 serious accidents requiring hospitalization occurred with harness devices while only 2 occurred with gondolas.
There are approximately 242 commercial parasail concessions in the US and its territories operating 627+ commercial parasail tow vessels.
At least 95 percent of all parasail fatalities result from the parasail riders' inability to escape/evacuate from a harness passenger support system following an unplanned water landing in high winds.
Approximately 3 to 5 million people enjoy the sport of parasailing each year.
Currently there are no federal regulations governing parasailing operations, equipment inspection, and replacement. Legislation at the state level is pending in Florida.
References: