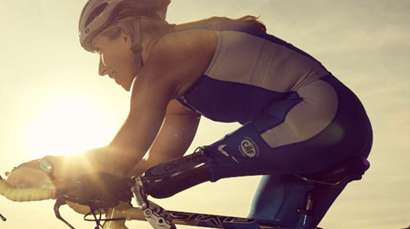 The term 'amputation' indicates the loss of a body part, usually involving a limb. Amputations are distinguished and defined by the way they occur:
Amputation: A surgical procedure in which a body part is removed because it has become useless or hazardous to one's health.
Congenital: An injury that occurs while the fetus is still in the womb. The child is born with a missing an extremity because fibrous bands wrap around a body part and cut off circulation.
Traumatic: The unplanned severance of a body part as a result of an injury or accident.
Treatment
If you, or a loved one, have experienced a traumatic amputation, it is critical to seek emergency care immediately. A team of medical professionals will assess the injury and determine the appropriate treatment. They will begin by checking for secondary conditions to ensure no further complications arise. Then, they will examine the wounded area to check if the limb can be saved. Below are the two options an emergency team will consider when treating an amputation injury:
Amputation: If the limb is damaged beyond repair, a medical professional will create a stump so the residual limb fits a prosthetic.
Replantation: The surgeon will attach the severed limb if enough tissue is salvaged from the injury.
Diagnosis
There are two main categories of amputations – partial and complete. When a partial amputation occurs, the extremity is not completely severed. In instances where a complete amputation occurs, the extremity is completely severed and the chanced for reattachment decreases.
The severity of the injury is determined by whether or not a body part can be reattached. This is a crucial factor that can help diagnose the patient, assess overall health risks or complications and provide a long-term prognosis.
The emergency team will usually measure the chances of reattachment according to the Mangled Extremity Severity Score (MESS), a test which assigns a specific number value to different factors of the survivor's state. Professionals will take the following factors into account:
Amputee's Age
Amputee's Health
Body Temperature
Numbness
Treatment
If you, or a loved one, have experienced a major burn injury, it is critical to seek medical attention. Doctors will know how to treat the burn wound appropriately in order to maximize recovery. Treatment options vary in accordance to the severity of the burn. Below are various techniques physicians may use to help throughout the healing process.
Dressings: Gauze or bandage material are placed on the burned area to help prevent infections.
Early Excision: This is a surgical procedure which removes dead tissue to help prepare the affected area for a skin graft.
Debridement: Mechanical, chemical or surgical debridement removes unnecessary tissue that does not come of easily during the acute stage.
Skin Grafts: This process transfers healthy skin to the wounded area from another area of the victim's body, an animal or a cadaver.
Circulation
Paralysis
State of the Tissue
Blood Flow
Secondary Conditions
There are several secondary conditions that may arise during the acute and sub-acute phases after an amputation. Medical professionals are aware of possible repercussions and will pay close attention to signs and symptoms in an effort to prevent them from occurring. However, if you or your loved one has sustained an amputation, it is important to be aware of secondary conditions in order to best handle emergency situations that may occur.
Immediate
Severe blood loss: If severe blood loss occurs, a medical team will administer a transfusion to replenish lost fluid.
Hypovolemic shock: If an amputee loses too much blood, he/she is at risk of going into hypovolemic shock. A transfusion is an effective preventative measure.
Nerve damage: In some instances, nerve damage may occur and an amputee can permanently lose feeling in the affected area.
Infection: The open wound is highly susceptible to infection and must be closely monitored.
Long term
Phantom limb syndrome- Amputees may feel pain in the lost limb. This can be very painful, but it typically doesn't last for a long period of time.
Deep Venous Thrombosis (DVT): DVT occurs when there is a blockage in one or more arteries. This condition is more likely to occur among lower extremity amputees. To prevent DVT from occurring, amputees are administered blood thinners.
Contractures: This condition causes muscles, tendons, joints and skin to become rigid and immobile. It is often the result of improper positioning during the immobilization period. Physical therapy is an effective form of treatment.
Rehabilitation
The rehabilitation period begins immediately after surgery. Whether an upper or lower amputation has occurred, the purpose of all rehabilitation for amputees is to assure the wound heals properly and regains functionality through a prosthetic, adaptive devices or the reattached limb. Age, health and psychological state play a major role in the rehabilitative process. Those who are younger and in a generally healthy physical and psychological state will typically get through this phase with more ease.
Below are common forms of therapy that amputees undergo:
Physical therapy: This form of therapy focuses on strength, endurance, coordination and mobility through exercises programs. It can help an amputee become accustomed to a prosthetic, gain a sense of balance, and treat phantom limb pain.
Occupational therapy: Occupational therapy helps patients with the coordination of small muscles. Patients are taught daily living activities like bathing and dressing.
Life with an Amputation
Adjustments and lifestyle changes come with any catastrophic injury. Amputations are no exception. However, there is no reason an amputation should inhibit an individual from participating in day-to-day activities. With the help of adaptive devices, many amputees can lead completely independent, enjoyable lifestyles.
Many amputees will choose to wear a prosthetic to help improve the quality of life after the injury. A prosthetic will help amputees perform functions like walking, running and handling items. It gives the amputee freedom to do many things on their own or with little assistance.
Those who decide to utilize a prosthetic will have to closely monitor its condition. Typically it will last several years. However, the lifespan of a prosthetic depends on the individual and the 'wear and tear' the device goes through.
Physically active amputees may find themselves changing prosthetics a bit more frequently. While it can be costly to repair a prosthetic, it is more important than ever for an amputee lead a healthy lifestyle. Those who don't maintain a healthy weight are at a higher risk of experiencing orthopedic and cardiovascular issues. Amputees are also encouraged to stick to a fitness regimen to encourage function and motion of the residual limb and prosthetic.
An amputation will undoubtedly have a life changing effects on an individual. However, with the right mindset and proper treatment, an amputee can continue to enjoy all that life has to offer.
Adjusting to life with an amputation may seem daunting at times. However, no matter what the cause of the amputation, it is important to know that you are not alone and you can still lead a rich and fulfilling life. There are an abundance of resources available for survivors and caregivers including support groups, medical treatment, inspirational books and financial assistance. These resources will help prepare you for your journey to recovery. For more information on the available guidance and support for amputees, we invite you to take a look at our resource guide.