Business Interruption Insurance has various definitions, the most critical definition is found in the individual policy language
Business Interruption Insurance is a relatively new form of insurance which protects business owners from not only the potential loss of physical property which may result from a disaster or emergency but the lasting economic impact that disaster or emergency has on the business and those who rely on it. Traditional business policies typically cover the impact a covered event has on the structure, contents, inventory, and other physical property. Recently additional provisions or riders have become available to protect the ongoing economic impact a disaster has on the business.
Definitions
Investopedia defines business interruption insurance as: "coverage that replaces business income lost in a disaster. The event could be, for example, a fire or natural disaster. Business interruption insurance is not sold as a separate policy but is either added to a property/casualty policy or included in a comprehensive package policy as an add-on or rider."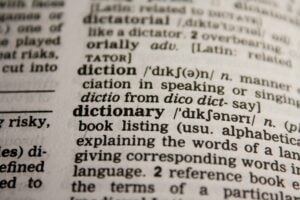 Wikipedia provides additional context in it's definition: "Business interruption insurance (also known as business income insurance) is a type of insurance that covers the loss of income that a business suffers after a disaster. The income loss covered may be due to disaster-related closing of the business facility or due to the rebuilding process after a disaster. It differs from property insurance in that a property insurance policy only covers the physical damage to the business, while the additional coverage allotted by the business interruption policy covers the profits that would have been earned. This extra policy provision is applicable to all types of businesses, as it is designed to put a business in the same financial position it would have been in if no loss had occurred."
Individual insurers will each have slightly different variations of their definition as evidenced by a short review of how the define business interruption insurance on their websites when marketing to businesses. For example, The Hartford, and Nationwide Insurance specifically mention the general principal that this coverage is meant to replace lost income and cover payroll. While Allstate Insurance simply describes it as helping to replace lost income and pay for extra expenses with less detail on what is covered. Keep in mind these are only the marketing descriptions, the policy itself is much more nuanced.
The Most Important Definition of Business Interruption Insurance
While there are varying definitions of business interruption insurance, the most critical definition will be found in the actual policy which a business decides to purchase. Often these policies are ambiguous and filled with legalese which makes it difficult for policy owner to determine whether or how much coverage exists. Combine with the reality that insurance carriers are incentivized to pay out as little as possible to satisfy shareholders it is often necessary for business owners to fight against their own insurance carrier to obtain the benefits they bargained for when they purchased business interruption insurance in the first place.
If you have questions about your business interruption policy, whether you are in Tampa or anywhere else in Florida please call us today at 813-273-0017.