Cantia Rahming of Hillsborough High School Recognized with Swope, Rodante Vanguard Award
Congratulations to Cantia Rahming of Hillsborough High School on being selected as January's Swope Rodante Vanguard Award winner. Swope, Rodante Managing Partner, Angela Rodante presented the award to Cantia during a special ceremony held in the auditorium of Hillsborough High School where teammates, coaches and faculty cheered Cantia on.
A truly talented and humble student athlete, Cantia has been an integral member of Hillsborough High School's Final Four Basketball team for the past two years, he's been a State Qualifier in Track and Field and has also served as captain of the Basketball team.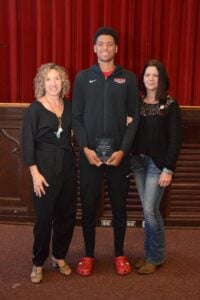 Cantia Rahming missed most of the season his Junior year due to a torn meniscus; however, he worked hard attending physical therapy on a daily basis in order to come back to the game stronger than ever before. His determination paid off and he was able to bounce back through injury and adversity. In the first five games of his Senior year, Cantia has averaged 28.6 points, 19.6 Rebounds, 2 assists, 4.6 steals and 2.2 blocks. As the captain of his team, Cantia has led his team to a 4-1 record with a win over a new district member Tampa Bay Tech. In the team's only loss to top rated Tampa Catholic, Cantia had an impressive 28 points, 20 rebounds, 2 assists, 1 steal and 2 blocks.
Cantia plays with great energy, enthusiasm, focus and skill, making him a phenomenal teammate and leader. Not only is Cantia an exceptional athlete, he has also demonstrated a deep commitment to academic excellence in addition to giving back to the community. With a 4.0 weighted GPA, Cantia will be quick to share the importance of maintaining a strong academic focus in order to achieve long term success. In his spare time, Cantia mentors and coaches under-served student athletes at The Skills Center, a sports based youth development organization which promotes sports intentionally infused with life skills and academics for students ages 3 to 18.
In a single parent home with his mother's business frequently taking her out of town, Cantia has been a positive role model to his younger siblings, ensuring their health, welfare and education stay on track. With all of his activities, studies and personal life challenges, he has proven that he is exceptional at managing his time and being a successful leader on and off the court.
Upon graduating, Cantia is looking forward to attending college where he plans to play basketball and subsequently pursue his MBA.
Established in 2011, the Swope, Rodante Vanguard Award's mission is to celebrate outstanding high school student athletes and coaches throughout all of Hillsborough County. The Swope, Rodante Vanguard Award honors the hard-work, drive and discipline necessary for student athletes to make an impact both in athletics and within the classroom. These students provide a strong example for fellow peers and positively impact the school system as a whole.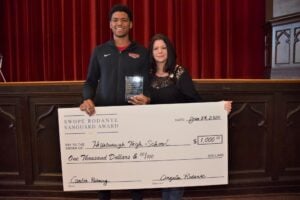 Each month of the school year, The Swope, Rodante Vanguard Award Selection Board, comprised of Tampa Bay business leaders and education professionals, recognizes a "Student Athlete of the Month." The winning student receives an award recognizing his/her achievements and a $1,000 check that is donated to their school's athletic department in honor of their outstanding performance.
To learn more about the Award or to nominate a student, click here.