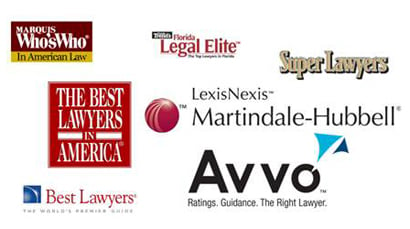 Lawyers seem to love being graded, and there are plenty of companies ready to do it. Some of the 'awards' and titles that you see advertised are not much more than the professional equivalent of a diploma mill. You send them money, and they list you in their 'registry' of lawyers with a fancy title. Others are a kind of legal popularity contest, asking other lawyers what they think of you. And then some credentialing organizations are legitimately making a real effort to identify the lawyers who deserve to be recognized as better and more committed than most.
Swope, Rodante lawyers have received the highest ratings from nearly any legitimate credentialing organization out there. And we are proud of that, for sure. But we would not want you to rely solely on our AV rating from Martindale Hubbell, or even the 'Best Law Firms' rating from AM Best, without taking the time to really understand the entire firm and its commitment to excellence in handling complex cases with life-altering catastrophic injuries. That said, here is what we know about the major organizations that credential lawyers.
Board Certification by a State Bar
Certification is the highest level of evaluation by the state bar organization to demonstrate competency and experience within an area of law, and professionalism and ethics in practice. Board certification recognizes attorneys' special knowledge, skills and proficiency in various areas of law and professionalism and ethics in practice. Board certification helps consumers identify specialists in various areas of law. Only six percent of eligible Florida Bar members— approximately 4,600 lawyers—are board certified.
Martindale Hubbell
For over a century, people have relied on the LexisNexis Martindale-Hubbell Law Directory for authoritative information and reviews on the legal profession from a worldwide perspective. The Martindale-Hubbell Peer Review Ratings attest to a lawyer's legal ability and professional ethics, and reflect the confidential opinions of members of the Bar and Judiciary. The legal community respects the accuracy of ratings because it knows that its own members — the people best suited to assess their peers — are directly involved in the process.
AM Best
A.M. Best Company is a global full-service credit rating agency dedicated to serving the insurance industry. It began assigning credit ratings in 1906, making it the first of today's rating agencies to use symbols to differentiate the relative creditworthiness of companies. Best's Credit Ratings are independent opinions regarding the creditworthiness of an issuer or debt obligation. Best's Credit Ratings are based on a comprehensive quantitative and qualitative evaluation of a company's balance sheet strength, operating performance and business profile, or, where appropriate, the specific nature and details of a debt security.
Best Lawyers in America
U.S. News – Best Lawyers "Best Law Firms" Tier 1 ranking was determined through an overall evaluation of all qualifying law firms, derived from a combination of impressive client feedback and feedback from lawyers in other firms within the same practice area.
Who's Who in American Law?
Since 1899, Marquis Who's Who has provided reliable and comprehensive information on leaders and achievers, from both the United States and around the world, within various significant fields of endeavor. Marquis Who's Who recognizes the influential achievements of people worthy of permanent record.
Super Lawyers
Super Lawyers is a rating service of outstanding lawyers from more than 70 practice areas who have attained a high-degree of peer recognition and professional achievement. The selection process is multi-phased and includes independent research, peer nominations and peer evaluations.
AVVO
Avvo is a national organization that rates attorneys and doctors in specific regions throughout the country. Avvo's comprehensive rating system carefully reviews a lawyer's background and overall profile, which includes years in practice, disciplinary history, professional achievements and industry recognition. Avvo performs rankings in 19 different legal categories and periodically collects background data from multiple sources, including state bar associations, court records, lawyer websites, and other pertinent information.